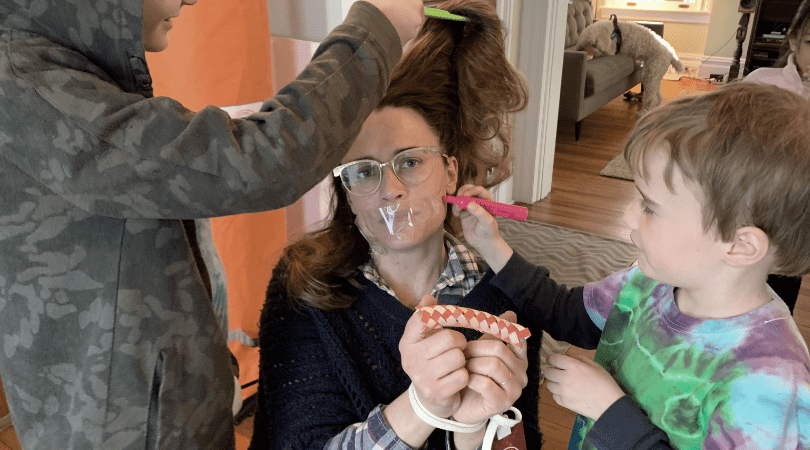 General Store Pop-up Gives Moms What They Really Want:
Free Coffee, Bubbly and Booze-Free Drinks Plus Wish Lists and a Day Off
We leave the house with screaming children clinging to our bodies, we play "is it chocolate or poop?" with random brown chunks found on the floor, and we use our purses as vomit bags. This Mother's Day, we'd like something more than a macaroni necklace, grocery store flowers, and endless games of "I spy" while schlepping to our in-laws' for brunch. As moms ourselves, we know how much mental and physical energy goes into the job. We deserve more, and the General Store Pop-Up Shop located at 1875 Springfield Ave in Maplewood, agrees.
That's why we're celebrating Mother's Day for a whole week with events just for you (AND without you so you can take a day off.) Starting Saturday, May 4, shop and enjoy free coffee, Prosecco, and make a wish list. We're also adding new inventory, including jewelry, art, pottery, concierge laundry service, organizational consulting, and more!
Moms can come any time during Mother's Week to make wish lists and let us know who should be notified about the list, whether it be kids, babysitters, nannies, partners, or spouses.
Here's a complete agenda of Mother's Week festivities:
May 4-5: Free coffee, Prosecco and booze-free Seedlip, thanks to CKO Maplewood PLUS a special Camp SOMa pop-up (because we know moms can't stop multitasking) with customized products from Mrs. Meshugga, MOD Studio, Playfully Posh Pictures, Biddle & Bop, Rebecca Reorganize and South Mountain Nature School, and a pop-up photo booth on May 4 from 11am-1pm from Live Love Lens Photography. In addition, South Mountain Nature School will be raffling off an 8-week caregiver and child class.
Also on May 4 at 10:30am, you can drop the kids at a FREE Zumba class next door at You're Cordially Invited while you shop and fill out your wish lists! To register, go to https://somageneralstore.com/product/zumba/
May 6 – May 10: More free coffee, Prosecco and alcohol-free Seedlip from couples and adult therapist Dr. Amelia Romanowsky, PsyD, plus storytime every day at 10am.
May 7, 7-8:30pm:  Learn to Knit with Kari Capone, $40 includes 1.5 hours of instruction plus yarn and needles.  Registration highly recommended: https://somageneralstore.com/product/knit/
May 9: Live music from Zoos (thanks to Sip in SOMa) and a gallery reception for children's art from local school Our Lady of Sorrows from 6 – 8pm.
May 10: From 7:30-10pm, Bad Housecleaner Podcast Launch Party and Photography Exhibit: Bad Housecleaner in her Natural Habitat, a collaborative exhibit by photographer Emily Feinsod, makeup artist Lyn Lynch, and Bad Housecleaner's Amy Howlett. The event is sponsored by Rebecca Reorganize, Epicyle and Oliver's Nannies. To learn more check out @BadHousecleaner on Facebook and Instagram.
May 10 – 11: We'll serve as gift concierges for your little ones to pick out cute, low-cost items perfect for mom and grandma, plus on-the-spot polaroid pictures with cute frames from Glass Designs.
May 11 – May 12: Free coffee, Prosecco and booze-free Seedlip, plus a raffle for a free massage, courtesy of Oliver's Nannies.
May 11: At 10am, Allyson Murphy from Laid Back Lactation hosts a free session for moms-to-be covering pre-natal tips for nursing, followed by maternity photos from photographer Emily Feinsod at 10:30. Then from 1-4pm, homemade ice cream sundae bar with Kreme & Krumbs.
May 12: A Mother's Day concert from Carolyn Jeselsohn's student cello ensemble from 11am – 12pm, plus last minute hostess gifts!
No matter what kind of mother you are, whether you're the type who enjoys getting down on the ground and playing with your kids or the kind who prefers to stay upright, you deserve to be honored. If you identify as a mother, whether it be as a mother to children, pets, or dragons, come by the pop-up shop, 1875 Springfield Avenue in Maplewood, and we will honor you.