From Words Bookstore in Maplewood, NJ: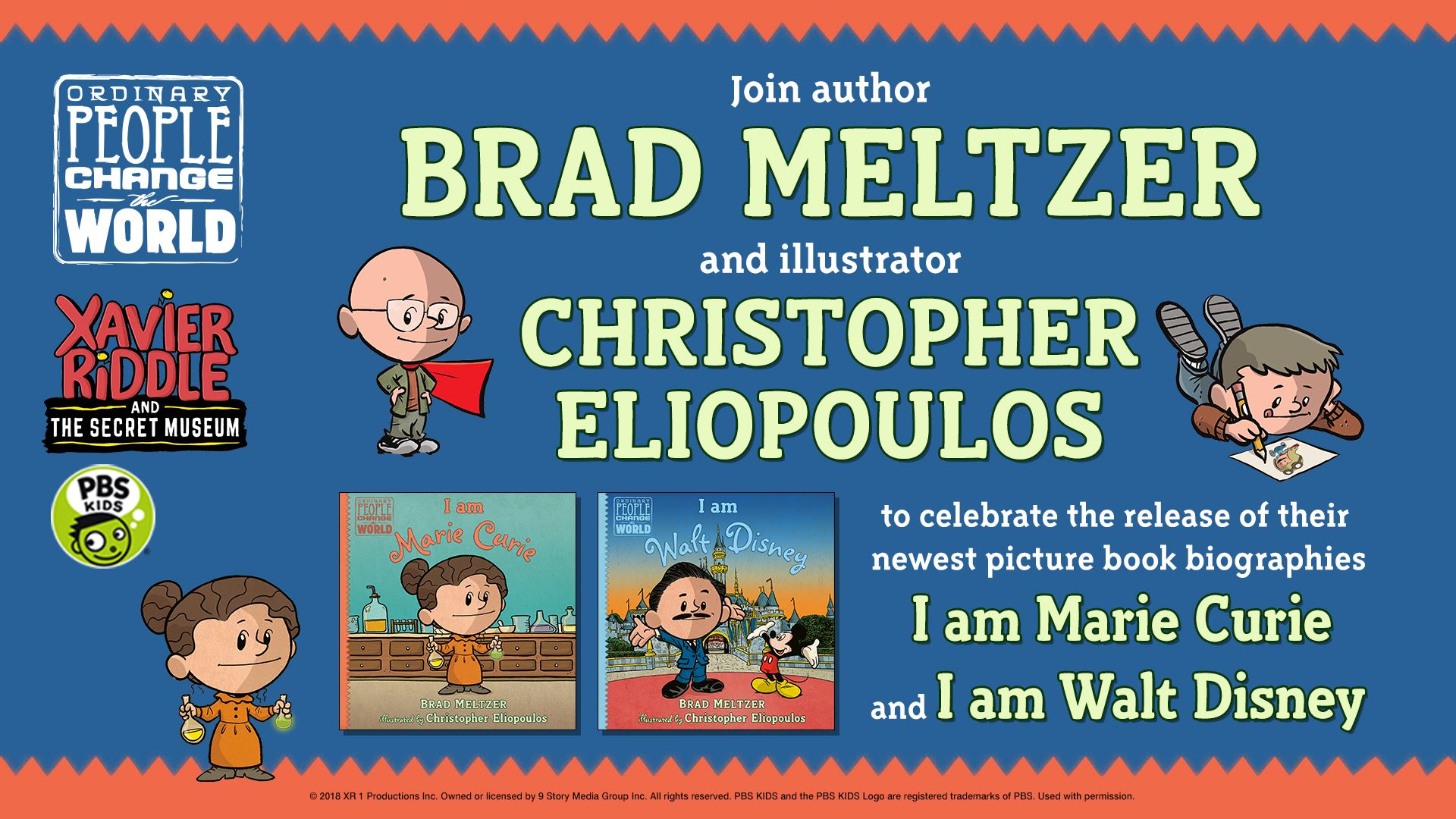 [words] Bookstore is excited to welcome a return visit to Maplewood by best-selling author Brad Meltzer and illustrator Chris Eliopoulos on Tuesday, September 10, 2019, at  6:30 PM. The author and illustrator will be at the store to celebrate the release of the newest titles in their children's book series Ordinary People Change the World.
Meltzer will be signing and discussing I Am Walt Disney and I Am Marie Curie. Comic artist and illustrator Chris Eliopoulos will add to the fun with an interactive drawing demonstration.
The author of more than twenty books, Brad Meltzer's catalogue of best-sellers include The Inner Circle, The Book of Fate, and eight other New York Times bestselling thrillers. In addition to writing fiction, Meltzer has penned  the non-fiction work, History Decoded, as well as  the two best-selling advice books  Heroes for My Son and Heroes for My Daughter. His comic book Justice League of America won the prestigious Eisner Award.
An avid history buff, he is also the host of Brad Meltzer's Lost History on H2 and Brad Meltzer's History Decoded on the History Channel. As an inspirational speaker, his TED Talk "How to Write Your Own Obituary," has been viewed over 50,000 times, leading to the subsequent TED Talk "Write Your Story, Change History," which garnered over 80,000 views.
Meltzer attributes his ability to succeed across so many media platforms in his belief that ordinary people change the world. This mindset was the premise for this series of non-fiction biographies, whose initial titles I Am Amelia Earhart and I Am Abraham Lincoln debuted on the The New York Times bestseller list.
This presentation is free and open to the public. Event host [words] Bookstore is located in the heart  of downtown Maplewood at 179 Maplewood Avenue.