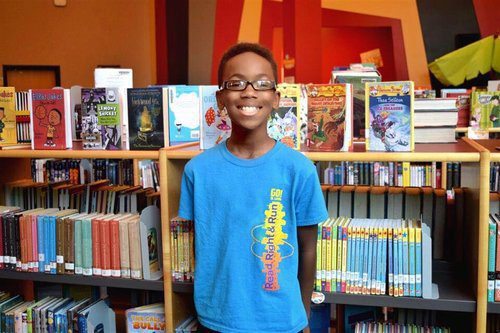 South Orange-Maplewood is lucky to be hosting some very special visitors this weekend. Starting this Friday, June 9, special guest 11 year-old Sidney Keys will be visiting. Sidney hails from outside St. Louis, where he started a book group for boys his age called Books for Bros, focusing on literature by African American authors. You can learn more about Sidney from this CNN video that featured him.
Toshie Davis, the PTA President at Marshall Elementary, thought it would be great to bring Sidney and his mom to SOMA to meet some of our kids and inspire them to start book clubs of their own. She called EyeSeeMe, the bookstore in St Louis that had inspired Sidney, and they put her in touch with Sidney's mother, Winnie Caldwell, who said "yes"! The Christensen family, proprietors of Les Saisons Bed & Breakfast on Elmwood Avenue in Maplewood — near Seth Boyden School — is graciously hosting our guests for three nights. (Art Christensen is a Seth Boyden alum.)
On Friday, Sidney and author Tracey Baptiste will spend the day at Seth Boyden with the 3rd – 5th grades. The 4th & 5th grade boys of Seth Boyden will have time to talk to Sidney and hear his story directly from him. Meanwhile, the 4th and 5th grade girls will be meeting with Ms. Baptiste, author of the new popular hit The Jumbies. (Ms. Baptiste was introduced to Seth Boyden by the organizer of the Maplewood-South Orange Book Festival happening that weekend, Robert Lasner.
After the separate events, the 3rd and 4th grade boys and girls will come together for an assembly in which Ms. Baptiste and Sidney will talk about reading and writing and all the places they can take you. The Seth Boyden community wants to express its appreciation to Ms. Davis, Ms. Caldwell and Sidney, Ms. Baptiste and all the community members who have contributed to what promises to be a great day for the children of Seth Boyden!