Joe Toomey's shop has been an integral part of Maplewood Village for almost half a century. But as of earlier this week, his shop is no longer at 98 Baker Street.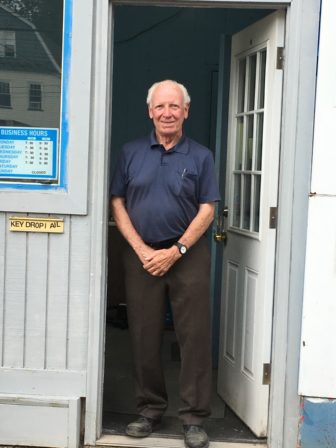 "I'm not retiring," says the indefatigable Toomey, who recently turned 74. "I am moving the business to better serve my customers," he says. Toomey is moving his business in with Bernie's Motor Cars at 73 Millburn Avenue in Millburn. With this new arrangement, Toomey says they "will have a better space and three master mechanics. And we are keeping our phone number to make it easy to reach us."
Toomey, who works 70 hours each week, is looking forward to cutting his hours back to a more manageable 40 work week.
His decision to move was spurred by a scarcity of skilled mechanics in the area as well as the revelation that there are oil tanks underground on his property. "We had the six tanks we knew of removed in 1987 when we stopped selling gas, but recently we found nine more tanks," said Toomey.
The tanks were put in place for the gas station that existed there in the 1920s and 1930s. The standards for removing tanks were less stringent then. The tanks were simply filled with sand and forgotten until now.
The oil tank removal requires the closure of the shop for at least two weeks. Two of the tanks are under the shop bays requiring some of the building to be destroyed to get the tanks out.  "It just seemed like the time to change was now," says Toomey.
Built in 1954, the building was originally built as an Esso (Eastern Seaboard Standard Oil) gas station. Toomey purchased the property in April of 1968, and sold gas through the shortages of the 1970s, and the name change to Exxon. Toomey's stopped selling gas in 1987 to concentrate on auto repair.
The fate of the lot at 98 Baker Street is unclear at the moment. The owner of the Wells Fargo building next door may purchase the lot as parking for tenants. But regardless of what's in store for that space, Toomey's absence on Baker Street will be sad for many locals who depend on his shop for quality auto repair.
"I chose this neighborhood for the people, and I will miss interacting with the neighbors. There is a family on Everitt whose family comes here. Now their grandkids come from Whippany to have us work on their cars. I will miss the people and I will miss being here," says Toomey.
Toomey's Automotive
Bernie's Motor Cars
73 Baker Street, Millburn, NJ
973-762-5269
Hours: Monday-Friday, 8am-5pm