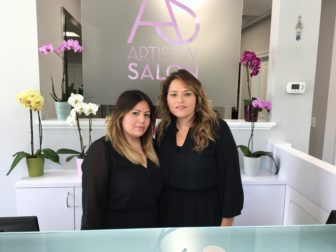 After 16 years working as a highly sought after stylist in Maplewood, Ampy Moreno is hanging out her own shingle at Artistry Salon in South Orange.
Ampy and her sister, Heysel Moreno, have been looking for the right location to start their own salon for 8 years. They found it in the recently completed 3rd & Valley building.
It may have taken a long time to find the right place, but it was worth it.
"We wanted to find a place that was close to Ampy's clients. When we began looking, South Orange didn't have it's own [premium] salon, so we were very interested in finding a spot here," says Heysel, who is a licensed stylist, but has taken on the role of business manager for Artistry.
Construction began in August of 2016 on the 12-chair salon. And though the doors opened for business in the beginning of May, the grand opening and ribbon cutting will be Thursday, July 13th. Refreshments will be available at 6pm, the ribbon cutting at 6:30.
Artistry is a full-service salon, with women's hair cuts starting at $50. They also offer a walk-in dry bar where clients can get a blowout for an affordable $30.
The Morenos are taking pains to make Artistry a place for the whole family. In addition to their women's stylists, they are actively looking for men's and kids' stylists, as well as a full-service barber.
In addition to her talents as a stylist, Ampy is a Wella Master Colorist, which is the equivalent of a PhD in coloring. Her degree means she not only does an impressive job with her clients, but can also teach the other stylists at Artistry. "Being an educating salon means our assistants are our future colorists and experts," says Heysel.
So stop in for Thursday's grand opening and find a new place in town to let your hair down.
Artistry Salon by Ampy
165 Valley Street, Unit A
South Orange, NJ 07079
973-761-1575
Hours:
Tuesday 9am-5pm
Wednesday 9am-9pm
Thursday 9am-7pm
Friday 9am-8pm
Saturday 7am-5pm
Sunday, Monday Closed