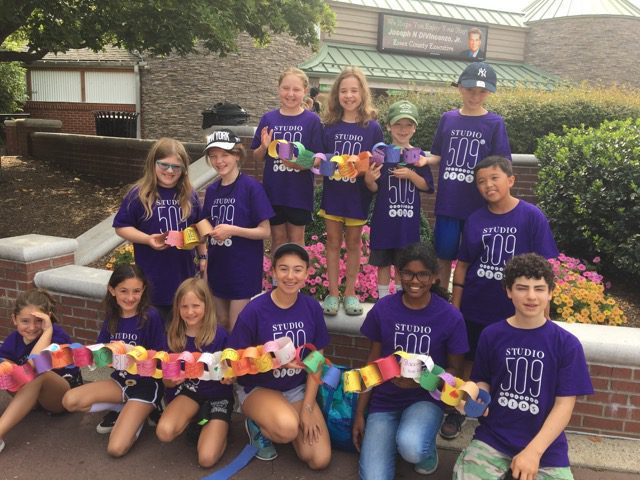 Last week (July 31 to August 4) was the first half of Studio 509's innovative summer camp for 6 to 12 year old boys and girls called "Backyard Kids." The goal of the camp is to teach kids to "Take care of yourself, your friends, your community."
"Our camp is called Backyard Kids and our mission is to make the world a better place by doing simple age appropriate service activities," said Bethany Pettigrew, who sent pictures from the first week of camp (the second and final week is August 7-11).
"Each day our campers participate in some sort of fitness or dance class at studio 509 and then create arts and crafts projects with a purpose," said Pettigrew. "For example they tie-dyed t-shirts and sold them in Maplewood Village with the proceeds going to the
Valerie Fund
. They also created paper chains for the birds at the zoo, created homemade cards for deployed soldiers and visited  … Whitehouse Nursing Home [where] they sang songs for the residents and dropped off their homemade tissue paper flowers."
Next week, August 8 to August 13, Backyard Kids will be fundraising for Mt. Pleasant Animal Shelter and collecting donations for the Harmony Day Care in Irvington. For more information, visit 
studio509fitness.com
 or email 
[email protected]
.