Foodies take note — there's a new restaurant in town!
Co-owners Dan Dandino and Liz Salituri have opened, Klean Apron, a take-out and delivery only food service located at 1846 Springfield Avenue in Maplewood (the former Soups & Scoops location).
Specializing in family-style meals and late night sandwiches and munchies, they offer free delivery for any order over $10. With online ordering, it couldn't be easier.
Everything is made fresh and cooked to order. Dan came up with the concept for his new restaurant while working as a consultant at Highland Place. The Monday night family meals they offered were part of the inspiration to launch Klean Apron.
My family had rave reviews for their very popular family style pulled pork meal, which came with almost 3 lbs. of pork, mac and cheese, coleslaw and biscuits. Plenty for all of us and leftovers for lunch the next day!! I also had a piece of the goat cheese and broccoli quiche, which was by far the BEST quiche I have ever eaten. The quiche can be served cold, room temperature or hot – whichever you prefer. I ordered it hot. It came with a fresh salad.
Next on my list to try is the family style baked ziti, which comes with a large tray of ziti, four meatballs, four sausage links and a Caesar salad.
The meatloaf family style meal comes with mashed potatoes and dill carrots.
All of these family style meals are also offered as individual meals and there are many others to choose from as well including vegetarian meals.
Klean Apron is also hoping to appeal to the Seton Hall crowd with their late night specials, which include items such as the "Holy Roller," a fried chicken breast served on a sweet roll with dill pickles, spicy mayo and comes with a side of pub chips which are cut fresh with each order. Also popular is the "Fat Rudy" a cheese steak with mozzarella sticks, onion rings, fries and ketchup!
As business picks up, they hope to have a few tables in place over the summer for dining in.
Liz and Dan are very active in the community and schools and currently have a "Give Back Program" to Clinton School and South Orange Middle School. With every order, they will give 10% to the PTA/HSA. They are hoping to partner with more schools as soon as they get the go ahead from them.
As summer approaches they are hoping to reach out to the community offering free delivery to the pool.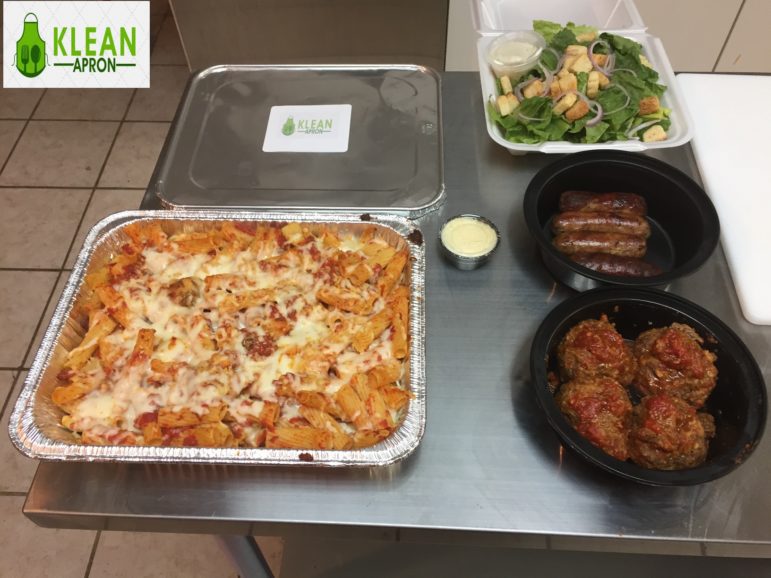 Hours of operation:
Monday – Wednesday 4 p.m.-9 p.m.
Monday – Saturday 4 p.m. -9 p.m. dinner and 9p.m.-1 a.m. late night menu
Closed Sunday
Look for them at May Fest!!
Klean Apron, kleanapron.com, 1846 Springfield Avenue in Maplewood, 973-821-4848