The following is from SOMSD Supervisor of Arts James Manno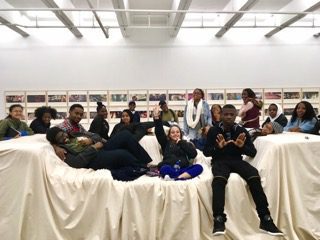 Columbia High School students from Mr. Jon Fisher's Photography class, Ms. Malhotra's Graphics and Production Journalism classes, and Bisa Butler's Art Classes, went on a field trip to visit various galleries in the Chelsea Arts District of Manhattan and to Mana Contemporary in Jersey City, NJ on November 18th.
The trip started out in Chelsea where they visited an array of galleries seeing an incredible variety of contemporary art from painting, sculpture, mixed media, film, video, and installation works. After grabbing lunch at a few restaurants on 10th Avenue between 24th and 25th streets, they boarded the bus and headed to Mana Contemporary, in Jersey City, an incredible art empire which is growing rapidly from it's humble beginnings as Moisha's Moving & Storage Company, to what it is today, an art storage warehouse, with galleries, art studio's and framing facilities, and creative organizations from all over the metropolitan area, and world, that have been attracted to make it their home.
The students had a chance to visit an exhibition of historical photographs from political campaigns right up to the present at The International Center of Photography's gallery, and were given a poster of selfie's that various candidates took of themselves with constituents, and enjoyed seeing works by Andy Warhol that had never been shown in the US before, as well as a visit to the studios of artists in residence at Mana.
Eyes and minds were opened, and a good time was had by all!