The following is from The Midnight Madness Committee: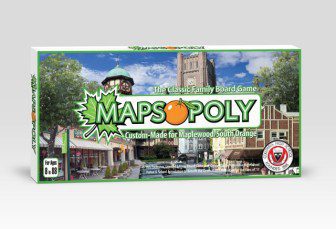 The MAPSOpoly Game — the Midnight Madness Committee's first fundraiser for the year — is hot off the press and available for purchase at several local retailers.
The game features a similar board and rules to another classic popular board game; however, all the locations on the board and monetary denominations are sponsored by South Orange and Maplewood businesses.
The sponsorships covered the cost of production of the games, so 100% of the sale price goes directly to Midnight Madness.
Midnight Madness is a drug-and-alcohol-free post graduation party, open to all 2017 graduates of Columbia High School. The graduates are bussed to a secret location for an all-night celebration, complete with food, dancing, games and lots of fun activities and entertainment.
This event is fully funded by parents and community organizations and businesses as a gift to the students.
As you can imagine, the cost is significant, and not all families have the means to pay the full ticket price, so funds raised by the committee are used to offset the difference and make sure all of the graduates can celebrate together.
The games are $25 and are being sold by the following retailers:
In Maplewood:
In South Orange: