From James Manno, Fine Arts Supervisor of the South Orange Maplewood School District:
Montclair State University's African Drumming Ensemble had Seth Boyden School's staff, students and community members on their feet dancing and drumming their way into the start of something new!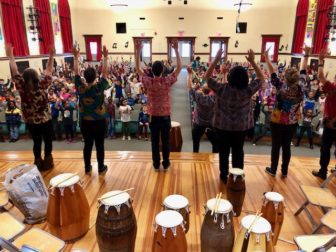 Led by John J. Cali School of Music's Adjunct Faculty member Robert Levin, Graduate Music Education Coordinator Dr. Lisa De Lorenzo and Undergraduate Music Education Coordinator Dr. Marissa Silverman, the African-Drum Ensemble performance event at Seth Boyden marked the start of the district's music partnership initiative with the John J. Cali School Music at Montclair State university.
Seth Boyden's Principal Damion Frye stated, "The Montclair State University African Drumming Ensemble provided our students with an amazing and interactive learning experience. Students and teachers were dancing, playing African percussion instruments, and singing along with the Ensemble.  We are truly looking forward to our continued relationship."
Plans to offer an African-Drumming residency at Seth Boyden School are in motion as well as other music partnership initiatives in collaboration with the middle schools and high school.