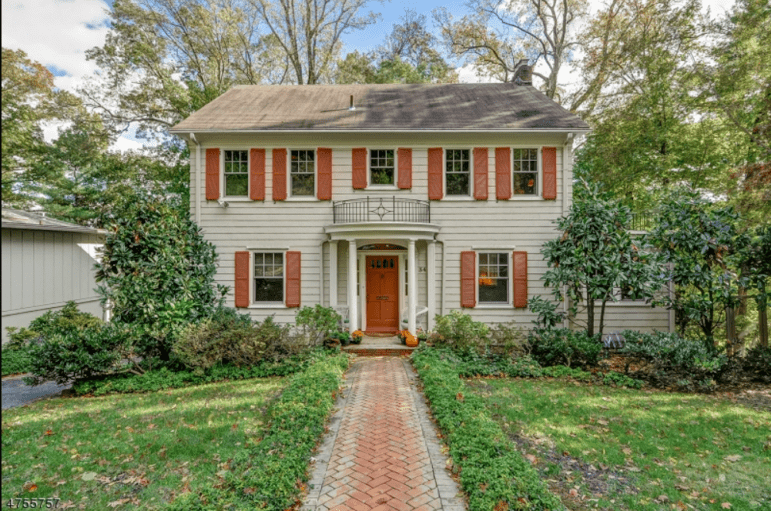 There are 13 open houses in South Orange this Sunday, including this 4-bedroom home at 34 S. Harding Drive listed for $725,000.
Scroll down for more information.
This is the complete list of South Orange open houses on the Garden State Multiple Listing Services as of November 2, 2017. For an up-to-the-minute list and cool interactive map of open houses, visit here.
This list was provided by Vanessa Pollock Team at KW Midtown Direct.
$725,000
307   Hillside Pl,   South Orange Village Twp.
Status:
Active
Style:
Colonial
Rooms:
10
Full Baths:
3
Bedrooms:
5
Half Baths:
1
Open House:

11/05/2017

Food:
From:

1:00 PM

To:

4:00 PM

Directions: Montrose to Hillside Place. Overlooks Meadowlands Park (Floods Hill)
$725,000
34   S Harding Dr,   South Orange Village Twp.
Status:
Active
Style:
Colonial
Rooms:
10
Full Baths:
3
Bedrooms:
4
Half Baths:
1
Open House:

11/05/2017

Food:
From:

1:00 PM

To:

4:00 PM

Directions: S. Wyoming Ave. to Lenox Ave., left on Hemlock Terr., left on S. Harding Dr.
Comments:First time open! Open flow colonial on private wooded lot with treetop views. Easy access to downtown So. Orange.
$485,000
535   Scotland Rd,   South Orange Village Twp.
Status:
Active
Style:
Raised Ranch
Rooms:
7
Full Baths:
2
Bedrooms:
3
Half Baths:
1
Open House:

11/05/2017

Food:
From:

1:00 PM

To:

4:00 PM

Directions: Scotland Rd
$529,000
177   W Fairview Ave,   South Orange Village Twp.
Status:
Active
Style:
Colonial
Rooms:
7
Full Baths:
1
Bedrooms:
3
Half Baths:
1
Open House:

11/05/2017

Food:
From:

2:00 PM

To:

4:00 PM

Directions: Prospect to Village to West Fairview
Comments:Beautiful Arts & Crafts home in the vibrant Village Colonial neighborhood. Steps to shops, restaurants and the NYC train.
$549,000
60   Fairview Ave,   South Orange Village Twp.
Status:
Active
Style:
Victorian
Rooms:
11
Full Baths:
2
Bedrooms:
6
Half Baths:
1
Open House:

11/05/2017

Food:
From:

2:00 PM

To:

4:00 PM

Directions: South Orange Avenue to Fairview Avenue
Comments:BRAND NEW LISTING! 6 Beds/2.1 Baths. EI-Kit. Form Din & Liv Rms. H/W throughout. Massive Master. Enclosed Front Porch. Sun Rm. Full LowLev. Level Lot. Run Over!
$619,000
20   Hart Drive South,   South Orange Village Twp.
Status:
Active
Style:
Colonial
Rooms:
11
Full Baths:
2
Bedrooms:
3
Half Baths:
1
Open House:

11/05/2017

Food:
From:

2:00 PM

To:

4:00 PM

Directions: South Orange Ave. to Hart Dr. South. Property AKA 337 West South Orange Ave.
Comments:Beautiful colonial, walk to town and train. 3 bedrooms 2 & 1/2 bath, Central air. Garage is 1,200 sq feet. Could be an art studio? Endless possibilities.

---

$719,000
35 Riggs Pl,  South Orange Village Twp.
# of Units:
2
Status:
Active
Unit Style:
Duplex-Side by Side
Rooms:
12
Full Baths:
2
Bedrooms:
6
Half Baths:
2
Open House:

11/05/2017

Food:
Beverages
From:

1:00 PM

To:

4:00 PM

Directions: South Orange Avenue to Riggs Place
Comments:$40,000 Reduction! Side by side duplex-separate lots and taxes. Bring your clients-owner open to reasonable offers.
$719,000
35   RIGGS PL,   South Orange Village Twp.
Status:
Active
Style:
Duplex
Rooms:
12
Full Baths:
2
Bedrooms:
6
Half Baths:
2
Open House:

11/05/2017

Food:
Beverages
From:

1:00 PM

To:

4:00 PM

Directions: South Orange Avenue to Riggs Place
Comments:$40,000 Reduction! Must see this pristine duplex – great mother-daughter opportunity and more. Price is for both sides – each side has separate lots and taxes.
$829,000
449   Twin Oak Road,   South Orange Village Twp.
Status:
Active
Style:
Colonial
Rooms:
12
Full Baths:
4
Bedrooms:
5
Half Baths:
2
Open House:

11/05/2017

Food:
From:

2:00 PM

To:

4:00 PM

Directions: Wyoming to Twin Oak Road.
Comments:Elegant colonial beautifully situated on almost 1/2 acre of beautiful property. Spacious rooms arranged in a flowing floorplan. Near Village & NYC trains!
$849,000
32   Wesley Ct,   South Orange Village Twp.
Status:
Active
Style:
Split Level
Rooms:
9
Full Baths:
3
Bedrooms:
4
Half Baths:
2
Open House:

11/05/2017

Food:
From:

1:00 PM

To:

4:00 PM

Directions: North Ridgewood to Wesley Court
Comments:Renovated just this year, this exceptional home is ready to move in & enjoy.
$879,000
361   Harding Dr,   South Orange Village Twp.
Status:
Active
Style:
Tudor
Rooms:
13
Full Baths:
4
Bedrooms:
6
Half Baths:
2
Open House:

11/05/2017

Food:
From:

2:00 PM

To:

4:00 PM

Directions: Harding between Underhill & Vista Way
Comments:If you are looking for a gracious, elegant, Grand Tudor on one of South Orange's most sought streets, then you have found it in this home.
$899,000
112   Connett Pl,   South Orange Village Twp.
Status:
Active
Style:
Colonial
Rooms:
12
Full Baths:
4
Bedrooms:
6
Half Baths:
0
Open House:

11/05/2017

Food:
From:

1:00 PM

To:

4:00 PM

Directions: S. ORANGE AVENUE TO SCOTLAND ROAD TO CONNETT PLACE
Comments:COMPLETELY RENOVATED CLASSIC 6 BR 4 BTH DUTCH COLONIAL COMBINES THE ELEGANCE & GRANDEUR OF YESTERYEAR WITH TODAY'S MODERN FEATURES
$935,000
54   Tillou Rd W,   South Orange Village Twp.
Status:
Active
Style:
Multi Floor Unit, Townhouse-End Unit
Rooms:
14
Full Baths:
4
Bedrooms:
3
Half Baths:
1
Open House:

11/05/2017

Food:
From:

1:00 PM

To:

3:00 PM

Directions: Wyoming Ave to Tillou Rd, enter The Manors at South Mountain to #54