The Brendan P. Tevlin Fund will host the 2nd Annual "Concert for Brendan," a night of music, remembrance and celebration at the historic Wellmont Theater in Montclair.
The concert, which remembers and honors the life of Brendan Tevlin, is November 27 from 8-11 p.m. Southside Johnny and the Asbury Jukes are the headliners; the opening act is Citizens Radio Band.
All proceeds will go to the Brendan P. Tevlin '13 Memorial Field Fund at Seton Hall Prep, Tevlin's alma mater.
To order tickets, call (800) 838-3006 and select option 1 or visit this link.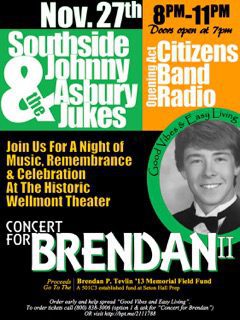 Brendan was born and raised in Livingston. He had just completed his freshman year at University of Richmond where he was a member of the Lacrosse Club. Brendan was a talented bagpiper for the Essex County Shillelagh Pipes & Drums. He was a 2013 graduate of Seton Hall Prep where he was a member of the National Honor Society, Lacrosse Team, Ambassador's Club, Knights of Setonia, President of the Gaelic Club, on the Student Council, Math Honor Society, Spanish Honor Society and he was the recipient of the Monsignor Tuohy Award for having achieved a GPA of over 4.0 for all four years at Seton Hall. Brendan enjoyed summers with family and friends in Lavallette where he was an avid surfer.
Tevlin's extended family had close ties to South Orange and Maplewood. Read more about Brendan here.
On November 4, the Tevlin family is hosting a "guest bartender" fundraiser to raise awareness of the concert. Look for more details coming soon.