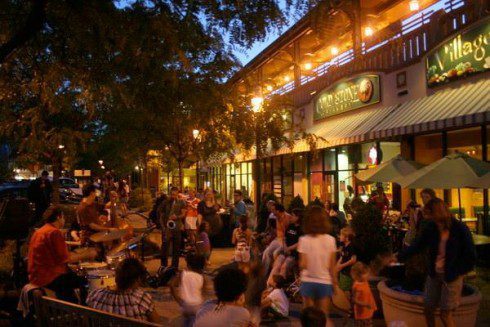 It's a beautiful August weekend! In addition to this event we told you about:
Downtown After Sundown evening concerts in South Orange Village Center: Enjoy the music of The Accelerators Live in Spiotta Park
Here's what else is happening in the Villages (and beyond) this weekend:
On Saturday morning, head into the city for Summer Streets NYC.  Nearly seven miles of New York City's streets are opened up for everyone to play, run, walk and bike. Activities include: dance performances, sand art, interactive photo booths, water sprinklers, rock climbing wall, zip line, learn to bike classes, food, music, and much more!
Summer Streets NYC
Saturday, August 8 from 7 am – 1 pm
Park Avenue from Brooklyn Bridge to Central Park, NYC
Free
Enjoy a night of 80s and 90s house music at OSPAC in West Orange when House Head Festival visits on Saturday night. There will be performances by Vicky Martin, Kenny Bobien, DJ Paul Jennings and more. Food and a beer & wine garden will offer refreshments to purchase.
House Head Festival at OSPAC
Saturday, August 8 from 12 pm – 8 pm
Oskar Schindler Performing Arts Center, 4 Boland Drive, West Orange, NJ
Free
Or see two of the biggest bands of the Seventies in one rockin' evening at NJPAC on Saturday. YES ("Owner of a Lonely Heart," "Roundabout," "I've Seen All Good People") and Toto ("Africa," "Hold the Line," "Rosanna") will perform the music that made their remarkable careers. By redefining rock'n'roll, both bands became global superstars on tour and produced many of the biggest-selling albums to date.
Yes & Toto
Saturday, August 8 at 7:30 pm
NJPAC, 1 Center Street, Newark, NJ
Tickets are $$49.50 – $129.50 and can be purchased online here
Richie Furay, founding member of Buffalo Springfield  and pioneer of the country-rock sound, will returns to SOPAC for his 4th show since 2013 on Saturday. Furay will perform an intimate, acoustic show for 100+ people in the SOPAC Loft.
An Acoustic Evening With  Richie Furay
Saturday, August 8 at 8 pm
SOPAC, One SOPAC Way, South Orange, NJ
Tickets are $45 – $85 and can be purchased online here
On Sunday, head to Hat City Kitchen in Orange to enjoy  Open Blues Jam with Al Gold. Let out your blues with a great blues jam all afternoon. Musicians from all around come out and play, and fill the room with sweet melodies that will touch your soul. Each week is a different band and all levels of players and singers are encouraged to participate!
Open Blues Jam with Al Gold
Sunday, August 9 from 3 pm – 6 pm
Hat City Kitchen, 459 Valley Street, Orange, NJ
No cover
In Millburn on Sunday, get back to the music of the Beatles (and more) when The British Invasion Tribute performs a concert at Taylor Park. More than just the Beatles, this nostalgic musical tribute spans the entire 60s British Invasion era and is actually three shows in one: the first show includes songs by iconic British groups; the American Response follows with music by such legendary artists as The Monkees, Simon & Garfunkel, & The Beach Boys; and the journey through the '60s concludes with a note-for-note tribute to the four lads that started it all– The Beatles!
The British Invasion Tribute
Sunday, August 9 at 7 pm
Taylor Park Band Shell, 100 Main Street, Millburn, NJ
Free
Check out our Events Calendar to see what else is happening in the towns and enjoy the weekend!