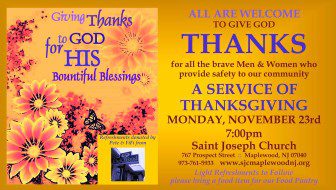 St. Joseph's Church is hosting a Service of Thanksgiving on Monday, November 23, in order to honor "all the brave men and women who provide safety to our community."
Fifi and Pete Kikianis of the Park Wood Diner are providing light refreshments to be served afterward. Participants are asked to bring items to contribute to the food pantry.
The event starts at 7 p.m. at St. Joseph's Roman Catholic Church, located at 767 Prospect Street in Maplewood. Call 973-761-5933 or visit www.sjcmaplewoodnj.org for more information.
Note: St. Joseph's is also hosting Thanksgiving Solace: A Musical Meditation on Friday, Nov. 20 at 7 p.m. Read more here.