Music, dance, sales, and more are yours to enjoy this weekend! Don't forget about 'Frozen Week' at Mara's Cafe & Bakery in South Orange and the Adults-Only Night at the South Orange Pool on Sunday and check out what else is happening in the Villages this weekend:
The first Maplewood Department of Recreation and Cultural Affairs summer concerts of the season at the Springfield Avenue Gazebo in Maplewood begins tomorrow night. Boasting an eclectic mix of musical styles, the concerts reflect the diversity of the community with shows for children, rock, R&B and some cool jazz. First up is the Tim Bason Trio performing traditional jazz.
Summer Concerts at the Gazebo
Friday, July 17 at 7 pm
Springfield Avenue Gazebo, 1688 Springfield Avenue, Maplewood, NJ
Free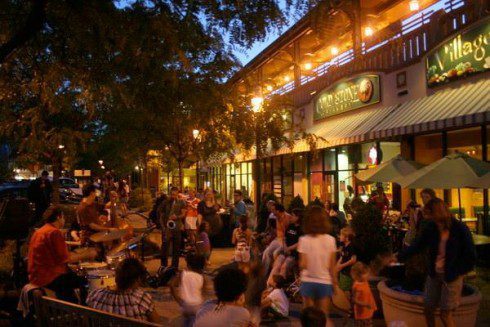 More free outdoor music happens at the  popular Downtown After Sundown in South Orange Village Center. From acoustic to zydeco, jazz to flamenco, just about every musical style will be represented at these free concerts which take place every Friday and Saturday evening from 7:30 pm to 10 pm. This weekend's schedule is as follows:
Friday, July 17: Spiotta Park – Western Spur and Sloan Street – TBD
Saturday, July 18: Spiotta Park – Bruno Lee & BET Hashem and Sloan Street – MB4
Downtown After Sundown Concerts
Friday, July 17 and Saturday, July 18 at 7:30 pm
Spiotta Park & Sloan Street locations
Free
Maplewood Village's annual Summer Sidewalk Sale will happen on Friday and Saturday.  It's a great opportunity to stroll Maplewood's charming streets and pick up bargains along the way!
Maplewood Village Summer Sidewalk Sale
Friday, July 17 and Saturday, July 18 from 10 am – 6 pm
Maplewood Village, Maplewood, NJ
Free to shop, great bargains to be had!
Don't miss the last days of the "Miracle on Baker Street" Turnover Sale at Morrow Memorial United Methodist Church in Maplewood. The Turnover Sale, now in its 82nd year, has become a legendary annual event in town. It takes up two full floors of the church building, transforming Morrow Church into a full-fledged department store of gently loved treasures. The revenue earned is used to fund vital mission projects and charitable works, both locally and globally.
Turnover Sale
Saturday, July 18 from 9 am – 12:30 pm
Morrow Church, 600 Ridgewood Road, Maplewood, NJ
Free to attend, great bargains to purchase
The 9th Annual St Baldrick's Fundraiser at the West Orange Shillelagh Club takes place on Saturday. Dozens of men, women and children will shave their heads in solidarity to raise much needed donations to help find a cure for childhood cancers. To date this event has shaved more than 400 heads and raised almost $600,000 for childhood cancer research. Enjoy live bands, great food and drink, face painters, Irish step dancers, more!
9th Annual St Baldrick's Fundraiser
Saturday, July 18 from 3 pm – 8 pm
The Friendly Sons of the Shillelagh Club, 648 Prospect Avenue, West Orange, NJ
Sign up and/or make a donation here
Ballroom with a Twist is a frenzy of sizzling dance moves by professional, international dancers, spanning the hot moves of samba, waltz and jive and it all happens at NJPAc on Sunday. In addition to the jaw-dropping, smooth moves and high kicks of the dancers, several of your favorite American Idol finalists join the bill with their powerhouse hit songs.
Ballroom With a Twist
Sunday, July 18 at 8 pm
NJPAC, 1 Center Street, Newark, NJ
Tickets are $35 – $85 and can be purchased online here
Check out our Events Calendar to see what else is happening in the towns and enjoy the weekend!