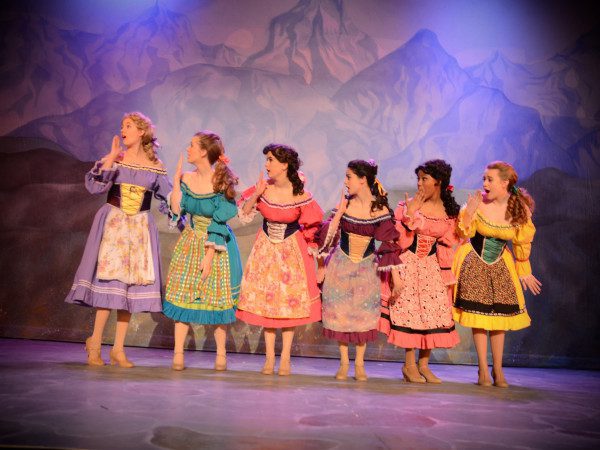 Columbia High School's production of "Disney's Beauty & the Beast" has won a Paper Mill Playhouse Rising Star Award for Outstanding Featured Ensemble Group.
The ensemble group awarded was "The Silly Girls" from Beauty & the Beast, featuring Sarah Noll, Lucy Schmidt, Kathryn Stathakis, Naomi Fisch, Olivia Pryor and Madie Reilly (pictured above).
CHS's Beauty & the Beast was nominated for 10 Paper Mill Playhouse Rising Stars Awards this year.
Only three other schools received more nominations this year: Summit High School with 18 ("Mary Poppins"), Union High School with 12 ("Mary Poppins") and Westfield High School with 11 nominations ("Into the Woods").
Last year, CHS received 14 nominations for its production of Ragtime; it won three awards.
Beauty & the Beast was named as a finalist for Outstanding Overall Musical and also for Outstanding Actor in a Supporting Role. Schools nominated for Outstanding Overall Musical and Leading Actor/Actress nominees performed at the awards event last night at the Paper Mill Playhouse, and award recipients were presented with engraved crystal awards from Tiffany & Co.
CHS was also nominated for Outstanding Performance by a Chorus, Outstanding Achievement by a Teacher or Outside Director for Tricia Benn and Bethany Pettigrew, Outstanding Achievement in Musical Direction for Jamie Bunce-Arraial and Peter F. Bauer, Outstanding Achievement in Choreography and Staging (Benn and Pettigrew), Outstanding Lighting Achievement for Tara Marie Abbondante, and Outstanding Hair & Make-Up Achievement (Kim Shriver, Suzanne Roghanchi, Skye Tyson).
The show received Honorable Mentions for Scenic Achievement and Costuming (Kathy Nye, Carol Rutledge, Suzanne Roganchi, Barbara Canace).
Individual student finalists included: Grant King as "Lumiere" for Actor in a Supporting Role. Hunter Kovacs ("Cogsworth") and Matthew Lintern ("Lefou") each received an Honorable Mention for Performance in a Featured Role.
Summit High School took home the prize for Outstanding Overall Production for their production of Mary Poppins. The award for Outstanding Actress in a Leading Role went to Claire Fitzpatrick who played the title role in Mary Poppins at Summit High School. The award for Outstanding Actor in a Leading Role went to Trevor Braun who played Charlie Chaplin in Chaplin: The Musical at Fair Lawn High School. Academy of Holy Angels High School in Demarest, NJ took home three awards for their production of Children of Eden including Outstanding Direction, Outstanding Music Direction and Outstanding Chorus.
The full list of winners:
2016 Paper Mill Playhouse Rising Star Awards Winners
Outstanding Overall Production
Summit High School
MARY POPPINS
Outstanding Actress in a Leading Role
Claire Fitzpatrick as "Mary Poppins"
Summit High School
MARY POPPINS
Outstanding Actor in a Leading Role
Trevor Braun as "Charlie Chaplin"
Fair Lawn High School
CHAPLIN THE MUSICAL 
Outstanding Hair and Make-up Achievement
Celine Lockman, Fiona Kniaz, Alex Salvitti, Angela Colo, and Gina Freshcoln
Clearview Regional High School
THE ADDAMS FAMILY
Outstanding Costuming Achievement
Katherine Winter
Summit High School
MARY POPPINS
Outstanding Lighting Achievement
Sharp Edge Lighting Design
Westfield High School
INTO THE WOODS
Outstanding Scenic Achievement
Robert Vendetti
Passaic County Technical Institute
MAN OF LA MANCHA
Outstanding Choreography / Musical Staging
Jennifer Williams
Union High School
MARY POPPINS
Outstanding Music Direction
George Croom
Academy of the Holy Angels
CHILDREN OF EDEN
Outstanding Direction
Katie McSherry
Academy of the Holy Angels
CHILDREN OF EDEN
Outstanding Orchestra

West Morris Central High School
IN THE HEIGHTS
Outstanding Chorus
Academy of the Holy Angels
CHILDREN OF EDEN
Outstanding Featured Ensemble Group
The Silly Girls
Columbia High School
DISNEY'S BEAUTY AND THE BEAST
Outstanding Performance in a Featured Role
Eric Judson as "Paul"
West Windsor-Plainsboro High School South
A CHORUS LINE
Outstanding Performance by a Featured Ensemble Member
Greg Lobo as "Big Jule"
Bernards High School
GUYS AND DOLLS
Outstanding Actress in a Supporting Role
Jazmin Palmer as "Fraulein Schneider"
Pingry School
CABARET
Outstanding Actor in a Supporting Role
Ross Turkington as "Cookie McGee"
Montclair Kimberley Academy
NICE WORK IF YOU CAN GET IT
Educational Impact Award
St. Joseph Regional High School
URINETOWN
"Theatre for Everyone" Inclusion & Access Award
Morristown High School
ONCE UPON A MATTRESS
Student Achievement Award
Darnisha Thomas
Costume Designer
Cicely L. Tyson School of Performing and Fine Arts
THE WIZ
Student Achievement Award
John Hartmann
Assistant Set Designer
David Brearley High School
AIDA
Student Achievement Award
Emma Nafz
Stage Manager
Morris County School of Technology
ONCE ON THIS ISLAND
Student Achievement Award
Kara Byrnes
Student Choreographer
Mount Olive High School
BIG FISH
Student Achievement Award
Dominic Hendrickson
Student Director
Mount Olive High School
BIG FISH
Student Achievement Award
Katherin Recio
Student Director
Summit High School
MARY POPPINS
Student Achievement Award
Costume Crew
Summit High School
MARY POPPINS
Student Achievement Award
Devyn Tibbals
Stage Manager
Westfield High School
INTO THE WOODS
Student Achievement Award
Madeline Kevelson
Student Costume Designer
Westfield High School
INTO THE WOODS
Student Achievement Award
Sarah Morton
Assistant Technical Director
Westfield High School
INTO THE WOODS