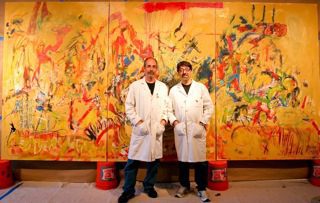 Mikel Frank and Gerard Amsellem have found that pairing up is mightier than going it alone in the art world, as the two local artists have collaborated over the past few years on paintings, exhibitions and film projects.
Frank has an eclectic arts resume. He began his career in live production in the early 1980s on independent film projects and also did sound effects editing and production work for Rosemary, the pilot for the Emmy winning Showtime series "Picture Windows." In 1985, he started working at The Metropolitan Museum of Art as Assistant Stage Manager in the Concerts and Lectures Department. Two years later he was promoted to Stage Manager in charge of production and continued in that capacity until retiring this past September after a 28 years to pursue his art career. Another intriguing career highlight: he did voice over for concert radio spots that aired on WQXR-FM in New York City.
As a visual artist, Frank has exhibited his work in galleries throughout the country. Since April 2002, he's been the leader of an artist critique group called The Contemporary Artists Forum. He also sits on the Advisory Board of the 1978 Maplewood Arts Center in Maplewood and is co-chair of the exhibitions committee.
Gerard Amsellem is a French and American citizen who spent his first 25 years in Paris, where he studied painting at the University of Paris and earned his Masters Degree in French Literature and Art History. In 1982, Amsellem moved to the U.S. and continued to paint and develop his interest in film. As a painter, his work has been exhibited in Paris and locally at the now-closed GAS Gallery and Studio on Ridgewood Road, the 1978 Maplewood Arts Center and other galleries. Amsellem teaches World Film at Livingston High School and has directed several short films. His interests lie in foreign and independent films from all over the world. He has been speaking on films in different venues like the West Orange classic film festival, the South Orange public library and his very successful film club "la Cinémathèque" in South Orange.
Several years ago, Frank and Amsellem started working together on large collaborative paintings — including one painted as a one-day public event at GAS (visit their Visual Passion website to view time-lapse videos of the collaborative painting process and view a photo gallery of their paintings below). This winter and spring, the work and curation of Frank and Amsellem can be enjoyed in several forums throughout South Orange, Maplewood — and even further afield:
As the creator and leader of la Cinémathèque, a film club that meets in the Loft at the South Orange Performing Arts Center on select 

Sunday

 afternoons, Amsellem curates a series of foreign films with a concentration on location. Coming up this winter/spring, Amsellem will be focusing on Japanese films. On Sunday, January 11, at 2:00 p.m., he will host a free film screening with discussion of the Academy Award-winning film "Burnt by the Sun." Amsellem will be announcing his upcoming series of films for the club at this screening.
Frank is the co-curator of the art exhibition MICA: Then and Now II at The Noyes Museum of Stockton College in Oceanville, NJ. The exhibition consists of established artists who have graduated from the renowned Maryland Institute College of Art in Baltimore. Some of the artists include David Humphrey, Jeff Koons, Donald Baechler, Herman Maril and Aaron Fink. The show opens on 

January 18,

 with a reception for the artists on 

February 7, from 3 p.m. to 5 p.m

. Frank and Amsellem will be doing a collaborative painting demonstration at the exhibition, accompanied live by ETHEL, the contemporary classical quartet from New York City, on Saturday March 28, 2015 at 1:00 p.m.
Frank and Amsellem will be the featured artists in an exhibition of their collaborative paintings at the Maplewood Memorial Library, 

March 1 through April 3

. The opening reception for the artists is on Saturday, March 14 from 2 p.m. to 4 p.m. Frank and Amsellem will be discussing their work. Guests can also enjoy live music.
Keep an eye out for: a series coming to the Burgdorff for two Sundays in May that the duo calls "Art & Film," which consists of Frank and Amsellem presenting a lecture on one particular artist and then — on a different day — screening a film about that same artist. This will also include interactive discussion about the film and the artist. The first "pilot" series focuses on Vincent Van Gogh.
Amsellem is the director and Frank is the line producer of a new film titled, "When, If Not Now," which will begin shooting in the spring.
Amsellem will make appearances at the West Orange Film Society on February 15 showing of "Pickpocket" by Robert Bresson and at the South Orange Public Library at

7 p.m.

on select Tuesday evenings from through April. Check the SOPL website for listings: www.sopl.org.