From Gallery 1978: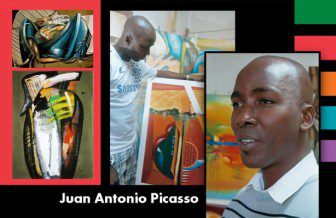 The following events are free and open to the public.
They are offered as part of Gallery 1978's Artist in Residence program, with featured Black History Month artist Juan Antonio Picasso.
For more information, go to www.1978artscenter.org. Gallery 1978 is located at 1978 Springfield Avenue, Maplewood, NJ.
Thursday, February 11, 7 p.m.
In the summer of 2014, renowned artist and educator Ben Jones led a delegation of artists and intellectuals to Havana. See Greg Bryant's video of that journey, and the resulting positive cultural exchange that resulted.
Friday, February 12, 7 p.m.
Gallery 1978 will offer a rare screening of "Raíces de mi Corazon" ("Roots of My Heart"), an independent short feature film which deals with the 1912 massacre of thousands of  members of the Independents of Color, the first black political party outside Haiti. The party, one of the largest slave revolts in the hemisphere, was founded in 1908 in order to secure a rightful share for AfroCubans in a Cuba which had successfully marginalized them.
Saturday, February 13, 3 to 5 p.m.
Gallery 1978 Black History Month Artist in Residence Juan Antonio Picasso in conversation with renowned artist and educator Ben Jones, and Curator of American Art for the Newark Museum Tricia Laughlin Bloom. Jones has made over fifty cultural exchange visits to Cuba since the 1970's, and is noted by the Granma International of Havana, Cuba as one of the most important African-American artists of his generation.
Sunday, February 14, 3 to 6 p.m.
Join us for a reception for our Black History month artist Juan Picasso, a relative of Pablo Picasso, who has travelled here from Cuba to show his work in Maplewood. Live music will be provided by Ahmondylla Best and John Lee.
Monday, February 15, 10 a.m.
All are welcome to join this Open Studio Talk with the Gallery 1978 Watercolor class. Artist in residence Juan Antonio Picasso will discuss his specific techniques, and will offer feedback about techniques observed in class work.
He will share with the class his inspirations, and will ask them about theirs.
Tuesday, February 16, 6 to 9 pm
The community is invited to join us for this Bon Voyage event for our visiting Black History Month artist Juan Antonio Picasso. Refreshments and live jazz will be provided.