Local travelers bound for the Maplewood Train Station are in for a treat as they head back to work this week.
Visible from the top of the hill across from the station is a magnificent giant American flag made of 96 tiles affixed to the baseball backstop at Oakview and Valley streets in Maplewood.
The flag is the brainchild of local artist Benjamin John Kaufman who creates a community art project for the Maplewood 4th of July festivities each year. This year's project was one of the most successful.
While from a distance the project reads as a one piece of art, a close-up viewing reveals 96 individual art works — some featuring portraits, balloons, fruits, feathers, dishware and a plastic dinosaur.
"The goal this year was to focus the energy of community participants and finish with a recognizable image given the rule: 'Do what you want but stick to the colors,'" said Kaufman. "I knew what would happen – from a distance you would see the image while up close you would see what each person did."
"The result is outstanding. My trust in the community was fulfilled."
Kaufman hopes to leave the project intact through next weekend — when Maplewoodstock crowds can come "next door" and enjoy it. But many of the project materials are ephemeral and will not stand up to weather in the long term. Kaufman said that a suggestion has been made to reinstall the project at 1978 Art Gallery on Springfield Avenue — after next weekend.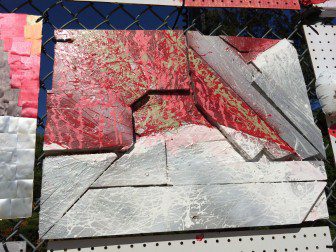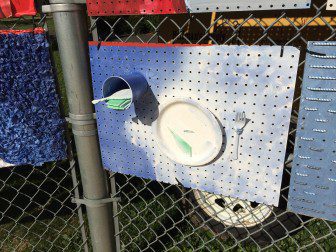 The project was sponsored by 1978 Art Gallery and VFW Post 10120.
Thanks to Howard Gilman and Mikel Frank for some of the photos featured here.