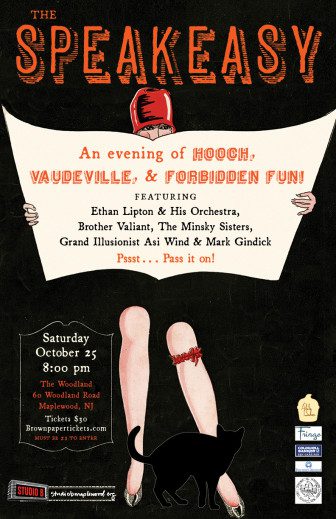 In the 1920s, Maplewood was known throughout New Jersey for its Vaudeville.
Long before it became a six-plex, the Maplewood Theater was a hotbed of talent; audiences were regaled with musicians, magicians, the beautiful, the sublime, and the surreal. Vaudeville had a home here, and Maplewoodians eagerly stood in line to take part in what was once America's most popular form of entertainment.
Studio B is bringing that tradition back.
"Vaudeville belongs in the 21st performers," says Marcy Thompson, Studio B honcho. "The acts are designed to delight – and it give exposure to multiple performers at every performance. The best part is, anything goes."
Thompson is referring to the vaudeville tradition of showcasing anything with flair.
If an act could capture the attention of an audience, it was given a green light. There were The Boxing Gordon sisters, singing ducks, snake charmers, and a long list of strong men who caught cannonballs with their stomachs. There were also beloved entertainers who got their start on the Vaudeville circuit: Buster Keaton, the Marx Brothers, and George Burns.
Does the whole thing sound a little bit like America's Got Talent? That's because so much of modern entertainment has its roots in Vaudeville.
"It's the grand daddy of pop culture. If you didn't like an act, all you had to do was wait 10 minutes," says Jenny Turner Hall, Studio B honcho.
Studio B, an arts organization based in Maplewood and South Orange, has been producing vaudeville-style entertainment for the past 3 years. Among its regular line up of shows, The Speakeasy Series has served to showcase exceptional talent, entertain modern audiences, and – in Thompson's words, "tip our hat to a grand – and local – tradition."
Their next Speakeasy is around the corner from the Maplewood Theater – but it remains closely loyal to the vaudeville traditions that once captivated this area.
"Our lineup is exceptionally talented – and has a lot of flair. Heck we've even got the fan-dancing Minsky Sisters."
Other performers slated to take the Woodland Stage on October 25th and His Orchestra – a charming, jazzy quartet with roots in South Orange, and regular gigs at Joe's Pub; Asi Wind – a world-renowned street magician; Mark Gindick – a modern Charlie Chaplin who performed for years at the Big Apple Circus; and Brother Valiant – a brassy, rock-n-roll band with a penchant for standard jazz, all graduates of Columbia High School.
"This is one of our favorite shows to do because it gives us a chance to work with so many amazing people in one night," Says Turner Hall.
"The only thing that makes it even more irresistible is that we set the show inside a speakeasy environment – so you can sit with a cup of bubbly while you enjoy being part of this incredible artistic community," says Thompson. "It's an incredibly fun evening that would be hard to find even in New York City."
And given the fact that all of their Speakeasies have sold out, the locals agree. Or, perhaps they're just channeling what Mapelwoodians have always known: when there's talent to be seen, you don't want to be left out.
Studio B presents: The Speakeasy
Saturday, October 25
Cocktails at 8, show at 8:30 p.m. sharp
The Woodland
60 Woodland Road
$30
www.brownpapertickets.com
must be 21 to enter