Wes Sawi, the affable chef and owner of Millburn's Cafe Monet, says his passion for food developed at an early age.
While brewing a delicious and frothy cup of cappuccino, prepared with the bistro's signature fresh-roasted blend, Sawi shared how he came to the culinary arts.
The son of a cultural attaché in Egypt's diplomatic corps, the Millburn resident explained that during his childhood, his family relocated every three years.
"Moving from a city in Europe to a city in Africa to a city in Asia, there were many farewell parties," said Sawi. "Growing up, you see a lot of food and wine." That exposure to world cuisine made an early and favorable impression on the future chef, who studied at the French Culinary Institute, an experience he called "phenomenal." From there, Sawi went on to train in some of the top kitchens in Paris and Lyon, France.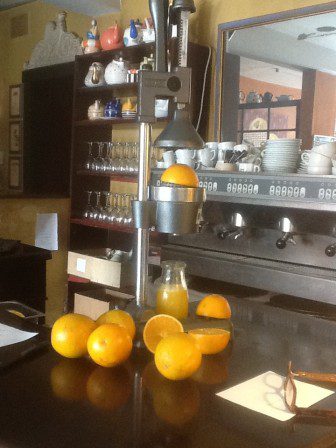 Cafe Monet, a Francophile's delight, has been serving and enchanting diners from Millburn and beyond for the past seven years. The authentic French bistro's ever-changing menu is inspired by the seasons, the chef explained. "You think, 'It's time for leeks, asparagus,' the ingredients hit you and you create the dish," he said.
Some specialties of the house include: Black Berry Glazed Duck Breast, Red Onion Tarte Tatin, Salmon Papillote Asparagus, Oyster Mushroom and Hanger Steak Frites, Field Greens, Red Wine Reduction.
For August, Sawi has a new menu planned, which will showcase the flavors of Provence. The cafe boasts a backyard garden where the chef looks forward to reaping a bountiful harvest which will serve as both ingredients and muse for entrees he'll prepare later this summer.
"It will include a lot of fish, olives and eggplants," he said, "and sunchokes, Jerusalem artichokes." As he awaits his crop, the gourmand can be found strolling the stalls of Millburn's weekly Farmers Market where he enjoys picking up fresh produce.
Sawi said he is also eager to experiment with biodynamic vegetables grown by several of his patrons who are physicians and have embraced the organic farming movement.
Also for summer, the intimate and charming bistro, perfect for celebrating a romantic dinner, offers a special sunset menu. Patrons dining before the sun goes down can enjoy a two-course dinner for $25 or three courses for $29.

On Sunday evenings, Cafe Monet features live entertainment in the form of a classical guitarist Serge Kaluzhny.

"I'm very lucky to have found him," Sawi said. "He's very talented."

The BYOB eatery is also available for private parties. Groups of up to 25 can enjoy a private room, while the entire cafe can accommodate 55 guests.

When asked what separates his from other restaurants in town, Sawi said it is the use of organic, fresh, local ingredients, but the chef's obvious love and dedication to his craft is arguably the pièce de résistance in his recipe for success.

Bon appétit! Cafe Monet, 309 Millburn Avenue, Millburn, (973) 376-8555