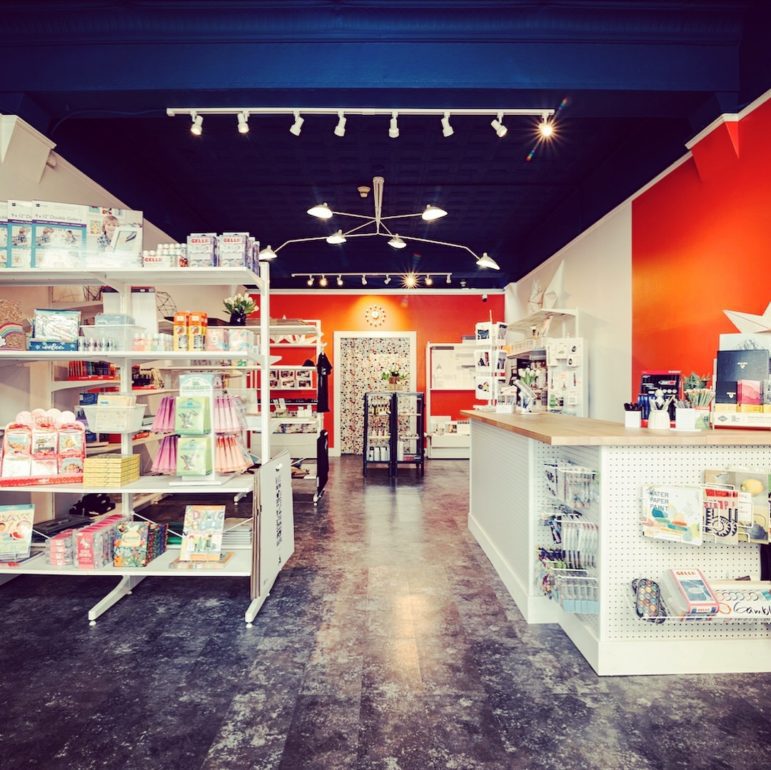 If you're thinking Maplewood Village and environs is looking a craftier lately, you're right. Geralyn's Art Studio is a fixture, and Oh! Canary on Valley Street opened last year. Both offer classes to help you practice your art. (And don't forget Express Yourself Studios and Paint & Chill on Springfield Avenue and The Local Yarn Store in South Orange Village Center.)
And now, if you want arts supplies, ideas or a few more specifics learning how to use the latest innovation in your craft, you can come to the most recent addition to the neighborhood:  A Paper Hat at 94 Baker Street.
"This town is a creative community in need of quality art supplies," said A Paper Hat owner, Mika Braakman. Braakman and her family are South Orange residents, close enough so she can ride her bike to work. "I'm standing in my dream," she said as she looked around her store.
Indeed, A Paper Hat is the perfect place for artists who don't want to drive half an hour to giant craft stores only to find chaos on shelves and no sales people to answer questions.
A Paper Hat has a bright, open, airy feel that makes you think maybe you could become good at oil painting after all. Braakman is available to talk to customers about their projects and can offer advice on the products that will best suit them. "I want people to know we're here to collaborate," says Braakman. And though A Paper Hat has the polished look of boutique, you'll find products on the shelves that range from top of the line to affordable.
As you look around, you'll see some old crafting standbys, like a beautiful array of watercolor paper and paints, stretched canvas, craftsman pens of every color, drafting supplies, and books for cartoonists.
But you'll also see newer innovations. One of the best selling products is the Coco Color Stylus. This nifty electronic pen lets you color on tablets and iPhones in hundreds of different colors and and brush styles. Then you can save your doodle for later. It's a little addictive. And the best part is, A Paper Hat sells this at the same price point as a certain online behemoth. But you can get it today.
Though A Paper Hat doesn't offer classes, there will be demonstrations to help customers learn to use art supplies they may not know what to do with, or just show them better ways to use supplies they have used for years.
As you peruse the shelves, you'll find them loaded with local products. "We sell brushes that are made in Newark, and paint supplies made by long time residents of the area," says Braakman.
Braakman took the name "A Paper Hat" from a Dutch children's song. "The song is playful and teaches kids to count," says Braakman, who is part Dutch. To celebrate the theme, alert shoppers will find gnomes in different places all around the store and a Dutch flag out front. "We are decorating our front window with paper hats made by customers," Braakman adds.
So next time you want to get your art on, come down to Baker Street. No matter the project, A Paper Hat has you covered.
A Paper Hat
94 Baker Street
Maplewood, NJ
862-250-3129
apaperhat.com
Hours:
Tues-Sat: 10am-5pm
Sun: 10am-2pm
Mondays and evenings by appointment