From SheenaCollum.com: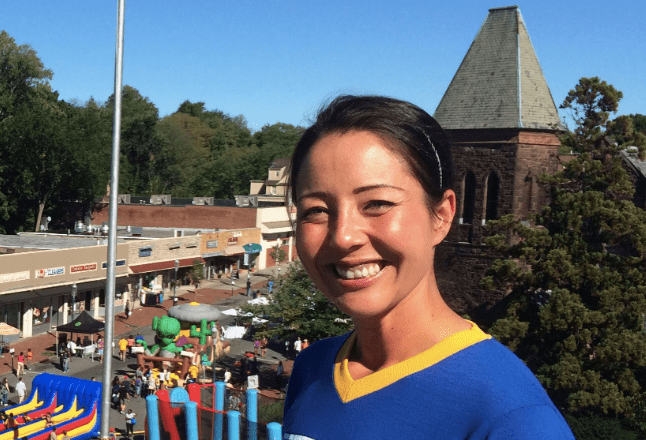 Sheena Collum was elected in May 2015 as the 49th Village President of Township of South Orange Village. She is the first female to hold this role and currently the second youngest female municipal executive in the State of New Jersey.
She concentrated her priorities around comprehensive planning, smart growth and economic development, infrastructure, citizen engagement and volunteerism, and streamlining municipal operations through consolidations, shared services and the expansion of technology. In 2018, Insider NJ named Sheena to the top 100 millennials.
Best known for her outgoing personality and unorthodox management style, Sheena can be found anywhere in town using restaurants for office hours, visiting schools and student groups, stopping by block parties, picking up trash, hosting listening sessions, or walking her Chihuahuas (Kimchi and Chico). She also maintains a robust virtual presence online regularly responding back to community questions, concerns and suggestions whether it be through email, Facebook, Twitter, Nextdoor or SouthOrangeOnline. Sheena prides herself on honesty, responsiveness and collaborative leadership.
As a community activist, Sheena organizes and participates in a series of social justice causes. During her tenure, she raised more than $150,000 for initiatives including food insecurity in schools, meals on wheels for seniors, hurricane relief, first responders, performing arts, gun control, after school tutoring and activities, voter transportation, and community members in need, to name just a few.
Professionally, Sheena is the Executive Director of the American Planning Association – New Jersey Chapter, a statewide planning organization whose mission is to help build stronger, more equitable communities and provide more choices for how people work, live and play while meeting the challenges of both growth and change. In her role, she works regularly with local and state officials, professional and nonprofit organizations, and state and federal agencies on a range of public policy issues affecting New Jersey's municipalities including smart growth, state and regional planning, aging infrastructure, transportation, public health, sustainability, economic development, redevelopment and affordable housing. Sheena recently received the distinction of being listed as a Power Player in Real Estate on the 2018 ROI Influencers List – one of 10 women statewide to be recognized.
A proud alumnus of Seton Hall University, she graduated summa cum laude with a Bachelor's Degree in Political Science and a Master's Degree in Public Administration with a concentration in public policy. She's a second-generation Korean-American and proud daughter of David and Oknan Collum who have been her support system ever since she first announced her candidacy for Board of Education in 4th grade and later was rejected due to not meeting age eligibility requirements.
In her spare time, Sheena loves spicy Korean food, playing golf, performing a mean air-guitar to loud music when no one is watching, and animals. She is also eager to watch the final season of "Game of Thrones."
Platform
Taxes & Infrastructure
Under Sheena's leadership, the tax increase to homeowners since 2015 has remained below 2% despite non-discretionary costs, such as pension and healthcare, far exceeding 5% increases. She has been instrumental in cutting costs, building efficiencies, identifying shared services, and generating new revenue that does not rely on raising property taxes. Such cost control, however, was not at the expense of addressing long-delayed, critical capital projects including water infrastructure; recreational facilities such as the tennis courts, Skate House and Baird Community Center; renovations to Police Headquarters; and new public safety radios on a statewide network.
Most notably, Sheena championed the sale of Village Hall, saving taxpayers more than $8M in renovations for municipal office space for 25 employees. This public/private partnership will deliver a multi-million-dollar, historic renovation featuring a premiere destination restaurant and beer garden in the heart of the downtown.
Moving forward, Sheena will work to:
Cap annual increases of discretionary operating expenses at no more than 2%.
Aggressively pursue new commercial ratables from economic development, shifting the burden of taxes from homeowners to vibrant business corridors.
Initiate a five-year, tax abatement available to all homeowners to encourage improvements to their property without the subsequent tax impact.
Complete the punch-list of deferred capital projects and ensure sufficient budget reserves for future governing bodies to maintain village assets and cease the destructive political habit of "kicking the can down the road".
Sustain congressional lobbying efforts to advance the Gateway Tunnel Project, the nation's largest infrastructure investment with a direct impact to all South Orange residents.
Continue statewide advocacy efforts to 1) stop unfunded mandates that burden municipalities 2) cap non-merit based automatic salary increases to 2% 3) fight for our fair share of state aid as determined by the school funding reform act to support our school district and 4) pursue and secure grant funding.
Engage Seton Hall University's new administration in urging the institution to increase their financial contribution to the town.
Planning & Development
A state-wide leader in comprehensive planning, land use, redevelopment and project finance, Sheena brings proven expertise to the Board of Trustees enabling her to negotiate more than $150M in new investment downtown with financial terms that benefit taxpayers. As the architect behind the 21stcentury comprehensive South Orange Master Plan initiative, Sheena spearheaded the community-centric approach to rewriting and updating antiquated land-use goals which has collected dust since the late 1970s and discouraged community re-investment. This follows on the heels of her "Business Code Review" initiative which eliminated outdated codes making it difficult to do business in the town.
Throughout her tenure, Sheena has focused on engaging citizens in the decision-making process, hosting and participating in dozens of public meetings regarding redevelopment. From downzoning Orange Lawn Tennis Club to preserve open space to negotiating rent caps in new retail offerings to support small businesses, Sheena has identified and implemented a myriad of creative ways to get the job done.
A passionate champion for affordable housing, Sheena quadrupled developer payments into the town's affordable housing trust fund, added a veteran's housing set-aside into new projects, and led the board in rewriting affordable housing policies and agreements that will ensure one in every five new units is for moderate and lower-income families.
Moving forward, Sheena will work to:
Finalize and adopt the village's new comprehensive Master Plan developed by community stakeholders entitled "Shaping Our Shared Future". The plan will feature elements related to land use, community form and design, mobility, historic preservation, recreation and open space, health and sustainability, and civic life.
Complete the renovation of the historic Village Hall into a destination restaurant and beer garden, infusing greater nightlife and activity into the downtown.
Lobby Trenton on liquor license reforms to enable greater access and opportunity to small businesses and eliminate the antiquated license monopoly.
Design and open a community co-retailing and incubator space for local makers, enabling a consortium of entrepreneurs to coordinate and collaborate on delivering a retail destination.
Identify property owners, a redeveloper and operator to finally bring a hotel to South Orange.
Adopt a town-wide bicycle network, introduce and enhance wayfinding signage, expand jitney operations, and better promote walkable urbanism.
Ensure all development and redevelopment projects adhere to the strictest standards of good planning and design, inclusionary affordable housing, and yield favorable financial benefits to the village.
Public Safety & Emergency Response
Under Sheena's leadership, prior findings from an independent assessment on police operations were put into effect including a new schedule which saved taxpayers money while improving efficiencies, enhancing community policing and introducing an aggressive campaign focused on pedestrian safety which has yielded an average of nearly 10,000 summonses annually over the past two years (speeding, illegal left-turns, failure to stop for pedestrians, etc.). Serious crime is down 11% since 2016 and remains steady at roughly 300 incidents annually, with 88% being non-violent crime (theft-related). Additionally, Sheena has worked with the Police Chief to implement training with respect to implicit bias and de-escalation and, since 2015, 11 of 16 new hires have been people of color bringing greater diversity to the department.
With respect to fire services, Sheena initiated the shared service study with the Township of Maplewood that found the two towns would be best served by consolidating departments which would streamline training, enhance fire safety services, and save taxpayers money on operating and capital expenses. To date, Sheena continues to work with stakeholders and the state on a fire department merger that will be the first of its kind in New Jersey.
Moving forward, Sheena will work to:
Complete the long-overdue renovations to Police Headquarters, improving working conditions for law enforcement to successfully complete their duties.
Keep pedestrian safety initiatives at the forefront of Traffic Bureau and train 50% of officers in radar operations by 2020 to aggressively enforce speed limits throughout town.
Adopt a formal civilian-review board to work with the Village's Public Safety Committee and law enforcement to ensure fair and impartial policing is at the forefront of every police encounter. Additionally, force reports will be publicly posted on the village's website.
Consolidate the fire department with the Township of Maplewood to deliver better fire services at a lower cost to taxpayers.
Re-establish the Community Emergency Response Team to augment first responders in major storm events allowing police, fire, and EMS to focus on high priority issues.
Finalize plans and implement smart technology with PSE&G to greatly reduce the number of power outages and minimize time for restoration.
Community Engagement & Communication
Through words and actions, Sheena opened a new chapter for public participation in South Orange with the addition of new citizen-led committees and making herself available to meet with any neighbor, on any issue, while regularly responding back to public concerns via email, phone, social media, and other venues. During her first year in office, the new website was launched including various apps to make it easier for residents to submit service requests, sign up for notifications and access public information. When it comes to participation and communication, Sheena believes "more is more" and there is so much more to be done.
Moving forward, Sheena will work to:
Produce a town-wide volunteer directory to ensure every resident and stakeholder is aware of the vast opportunities to get involved.
Introduce availability of phone and video conferencing to all committees, boards and commissions to allow members to join remotely, increasing participation of those who are limited in mobility or have family responsibilities that make it challenging to attend in person.
Revamp the village's website to expand online payments, automatic bill-pay, and ensure the redesign provides an optimal user experience.
Hire a communication lead responsible for timely website updates, press releases, weekly electronic newsletters, social media updates, a redesign of the Gaslight,and achieving a milestone of having 50% of households signed up for electronic communications by 2020.
Adopt a 48-hour policy that any entity within the Village subject to the Open Public Meetings Act cannot hold a committee meeting unless their agenda is posted to the Village website no less than 48 hours before their regularly scheduled meeting.
Adopt a companion policy to agenda postings that require minutes be posted no less more 10 business days after being approved.
Modify policies and procedures to provide easier access for community groups the ability to obtain meeting spaces. We all rise with an engaged and active citizenry.
Introduce a South Orange Annual Report to share with the community our goals, outcomes, and expenditures, holding government accountable for what we said we would do and what we did.