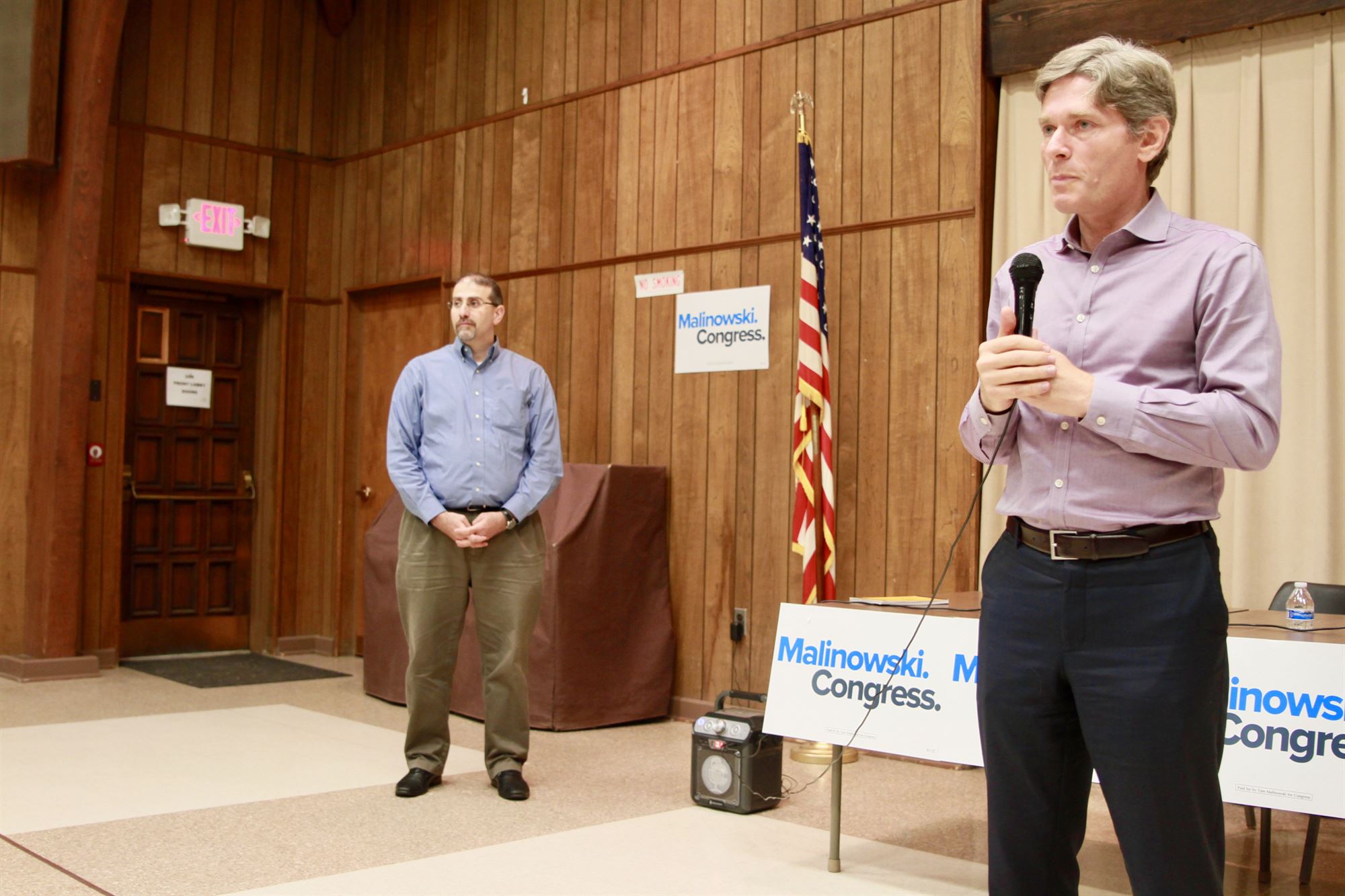 Tom Malinowski campaign for Congress (NJ-07) hosted a Jewish outreach event October 7 at Millburn's Bauer Center in Taylor Park, marking the second campaign stop for Malinowski in Millburn within one week. (Rep. Leonard Lance's office had not responded regarding whether the candidate plans to make any campaign stops in  Millburn —the only Essex County town in New Jersey's 7th Congressional District — before the election on November 6.)
Former U.S. Ambassador to Israel Dan Shapiro (2011-2016) and Malinowski addressed the room. Shapiro still resides in Israel with his family. He and Malinowski served on the National Security Council staff together during the Clinton Administration and then again in the Obama Administration when Shapiro was appointed ambassador and Malinowski served as the Assistant Secretary of State for Democracy, Human Rights and Labor under John Kerry.
Sunday's crowd featured a mix of supporters and undecided voters like David and his wife Renee of Westfield who'd come to hear the candidate's position on Israel.
"Our Rabbi invited us," said David, who considers himself a Republican-leaning Independent. "I have some concerns I hope he can clear up. But I don't think he's going to be able to. I have too many friends in the audience so I won't ask my questions."
Support for Israel is a deal-breaker issue for David and Renee. They are wary of the Democrat's endorsement from J-Street, a liberal pro-Israel organization.
"J-Street is Soros backed," David asserted.
Another gentleman, still on the fence, offered, "I'm concerned about all the issues: Human rights, the economy's strength, our taxes going up. I want to know where he stands."
Shapiro lent his support to Malinowski's campaign and called him a strong supporter of Israel. He pointed to the Malinowski family's history of hiding Jews from Nazis in Poland to his work overseeing the State Department's international efforts to combat anti-Semitism as Assistant Secretary of State.
Shapiro stressed Malinowski's work with the late Senator John McCain to end torture, saying, "Tom worked by building coalitions of reasonable people of both parties in a bipartisan way that recognizes that the values of democracy and tolerance and freedom and how we conduct ourselves at home and how we conduct ourselves abroad represent who we are," Shapiro explained. "The best example of that is work with the late Senator McCain to outlaw the use of torture by U.S. officials and U.S. forces and intelligence agencies. A decent group of people in the center of our government drew the line and said there are some things we as a people and we as a government can not do and torture is one of those things."
Shapiro took issue with those attempting to divide pro-Israel support into party lines. "I've noticed in following this campaign there are those who try to make support of Israel a partisan issue. They try to compare their version of support for Israel or their party's support for Israel as better than the other. That's completely at odds with the core pillars of support that has made the U.S. a reliable ally for Israel throughout the decades, and that's bipartisanship," he added. "People who try to make this a wedge issue are not doing Israel any favors. Tom is a voice of strong bi-partisan support for Israel."
Shapiro voiced growing alarm over Iran's ability to create a second front at the Syrian/Northern Israel border as a concern for Israel. Two weeks ago Russia blamed Israel for the planes shot down by Syria. "We don't know what will happen," Shapiro mused. "If Russia who more or less has cooperated with these strikes against Iranian targets will now restrict the space and limit Israel's freedom of action. This (Russia's accusation) calls for a very full-throated defense of Israeli legitimacy of action and freedom of action by the United States. So far the administration, I think because of the presidents desires to cultivate his relationship with Vladimir Putin has been basically silent on this question and it's a mistake."
Malinowski said, "It's right for the United States to stand by countries that share our Democratic values. Whether it's our NATO allies in Europe or our ally in the Middle East, Israel," he continued. "Because it is a country that while not perfect — we're not perfect, nobody's perfect — fundamentally shares our democratic values and commitment to human rights that define who we are as Americans. I believe very passionately that the role of the United States is to be Israel's friend and ally. When we have issues with anything that Israel is doing, we address those issues as a friend and ally."
As for issues closer to home, Malinowski briefly touched on a plan to return the state and local tax deductions to New Jersey and how he hopes to improve New Jersey infrastructure."I want to be your representative," he said. "I want to fight for all those New Jersey issues we're all concerned about, but as Dan said I also want to make sure the United States Congress is not a rubber stamp, it's a check and balance in defense of our democracy in defense of our values both at home and abroad."
Did any of the information help to sway undecided voters?
"I think this was helpful. I feel like I have a better understanding of his points of view," acknowledged one Short Hills man. "I will still need to read more to make my final decision." His wife was less convinced: "He said things I wanted to hear, but he's a politician," she said. "I remember when there wasn't an income tax in New Jersey and I'm not that old. Politicians have screwed us."