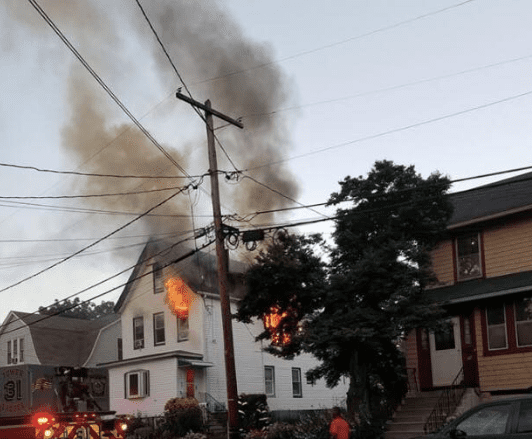 A number of Maplewood residents "lost everything" in a fire on July 7 that left their Lindsley Avenue home uninhabitable.
Although everyone escaped the home unharmed, a neighbor is helping collect clothing and other items for a family of three that lived in the multi-family house — two adult women (mother and daughter) and a child (their grandson/son). The neighbor, Kimberlee Auerbach Berlin, can be reached via the Facebook groups Maplewood Moms or Village Green News & Views.
A gofundme campaign has also be established; visit here.
Below is the full report from the Maplewood Fire Department regarding the incident:
The Maplewood Fire Department battled a house fire on July 7 that left a multi-family home uninhabitable, forcing the occupants to seek temporary shelter.
Firefighters responded at 8:19 p.m. to 24 Lindsley Ave. for the reported structure fire with possible occupant trapped inside. Upon arrival, flames were showing from the second floor windows on the right side of the building. Engine 32 arrived, established a water supply and advanced a hand line through the front door and up the stairs to the second floor, where heavy fire conditions were encountered. A second hand line was stretched to the second floor to provide back-up for the initial hand line. The bulk of the fire was darkened quickly with the two hand lines and declared under control within 30 minutes.
Searches were conducted on all floors with negative results. It was learned that the occupant exited the building prior to the fire departments arrival but was still evaluated by EMS on the scene.
Mutual aid fire departments from Irvington, South Orange, Millburn, Union, West Orange and East Orange assisted at the scene, while Montclair, Bloomfield and Roseland covered the town during the incident.
There were no reported civilian or firefighter injuries at the scene. The fire is being investigated by the Maplewood Fire Department Fire Investigation Team.