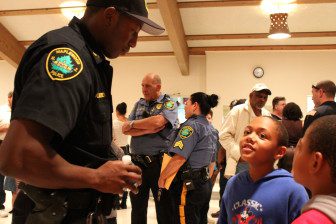 From the Maplewood Police Department:
The Maplewood Police Department, with the assistance of Rev. Rick Boyer, will be holding an informal community meeting for officers and residents with the second Maplewood Police "Coffee with a Cop" Event at Prospect Presbyterian Church located at 646 Prospect Street from 7:00 P.M. to 7:45 P.M. on October 20, 2016.
The goal of the meeting is to provide an opportunity for residents to meet several of our officers in a relaxed atmosphere to discuss community issues and build relationships.
For more information, contact Detective Sergeant Michael Palmerezzi at (973) 762-3400 ext 7914or mpalmerezzi@twp.maplewood.nj.us.
Related coverage:
PHOTOS: Maplewood PD's Coffee With a Cop Scores Big in Debut
South Orange PD's 'Coffee With a Cop' Draws a Crowd
Coffee House Discussion on Community Policing & Youth Drew Large Crowd
In Maplewood, Police Reach Out to Clergy to Forge Community Relations
Maplewood and South Orange PDs Striving for Community Connections