This article was submitted by the Columbia High School HSA:
In keeping with the holiday season, Columbia High School teachers, administrators and staff were treated to individual boxes of homemade cookies on Tuesday, provided by parents.
Organized for the second year in a row by parent volunteers Leah Gomberg and Barbara Cokorinos with the support of the CHS Home and School Association, more than 60 cookie bakers and an amazing team of "elves" packaged more than 300 individual boxes of cookies (including gluten-free and nut-free varieties).
The gesture was a way for the HSA and parent volunteers to show teachers and staff how much their dedication and hard work is appreciated.
Gomberg and Cokorinos expressed thanks for all the volunteers who contributed cookies and time. "What seemed like a monumental undertaking was made easy by the generosity of the CHS families," Gomberg said. They also thanked Principal Elizabeth Aaron for her enthusiasm and strong support of this project.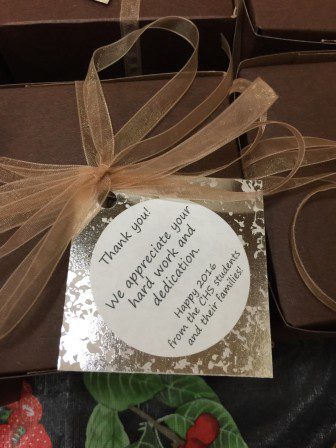 Clinton Elementary and South Orange Middle School HSAs also package cookies for teachers and staff. "We would love to see the project expanded into the rest of the schools in the district next year," Cokorinos said. Start baking!