The South Orange Middle School Students for Social Change Club hosted "Body Positivity Week" at the school last week. Students from the club's Feminist Committee developed the schoolwide week of programs and events, said Ms. Stephanie Rivera, 8th grade social studies teacher and the club's advisor. To make the event possible, students held multiple fundraisers and reached out to various guest speakers for a special assembly.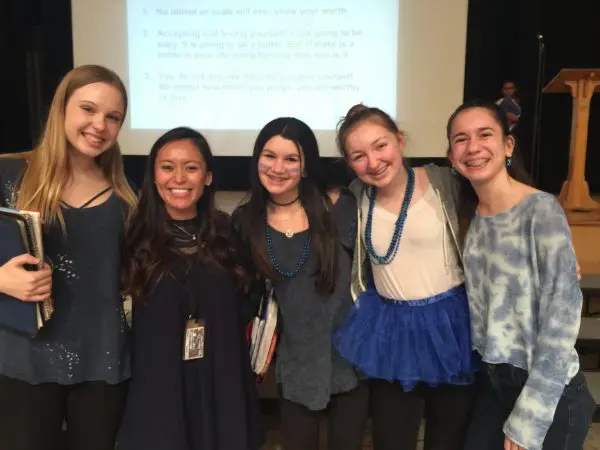 "They were really inspired by recognizing how much pressure they and their peers of all genders are under to look a certain way, especially in middle school," said Rivera. "The purpose of their week was to promote body positivity, and help build their peers' self-esteem and self-image. They really wanted to provide a safe, supportive space for all of their peers to talk about issues that they feel they don't get to discuss often. They wanted to raise awareness about eating disorders, and what it means to be body positive and love yourself."
Activities included giveaways such as blue bracelets that say "#BodyPositivityWeek2k17" and "I Am Body Positive" on the outside, and on the inside say, "I am beautiful inside and out." They also decorated the entire school with body positive notes and posters. In addition, students taught a lesson to their 8th grade social studies peers that provided more educational opportunities about body positivity and eating disorders.
Students ended the week with an assembly for the entire school that featured guest speakers including author Jennifer Baumgardner; director of spiritual formation at The Community Reformed Church, Lesley Mazzotta; SOMS parent Patricia Canning, founder of a women's triathlon club, and Rivera herself.
Baumgardner, Executive Director/Publisher at The Feminist Press at CUNY, encouraged students to "bring all parts of yourself into the room with you," and noted that sometimes the most important things in our lives "are the most silenced." Mazzotta discussed her own journey toward self acceptance and loving her body. Canning told the students, "Who you are is enough" and that it doesn't matter what you look like.
Rivera's talk was deeply personal and moving. She told the students about her lifelong struggle with a negative body image, which started with family members focusing on her weight and led eventually to a battle with bulimia in college. Bullied for her weight in middle school (friends told her to kill herself, saying "You're fat, you're ugly and no one will miss you if you're gone"), she began cutting herself.
In high school she began counting calories and had starving competitions with friends. Once she got to college, her disorder led to full fledged bulimia. She said she sometimes threw up "until there was blood in the toilet."
Reaching rock bottom and contemplating suicide, she confided in her RA who told the school dean. It forced Rivera to get professional help.
"It's been four years since I threw up," an emotional Rivera told the students to supportive applause and cheers.
At her lowest point, one of Rivera's friends asked her what kind of teacher she most wanted to be. Her answer: to be the best role model she could.