From Maplewood Mayor Victor DeLuca:
Please check out the Township of Maplewood's new webpage listing the Black History Month events to be held in town. www.maplewoodbhm.com
Thanks to the many groups sponsoring these events and the Maplewood Office of Cultural Affairs for its assistance.
FEBRUARY 1 – 28
Art Events & Happenings
Thu, Feb 1, 201812:00 PMWed, Feb 28, 201810:00 AM
Express Yourself Studios (map)
Express Yourself Studios presents a variety of art related events happening throughout February and be sure to visit the Hilton Branch Library to view our MLK Day Community Mural which will be on display all month. For more information call 973-763-5256 or visit us on the web at Express Yourself Studios
FEBRUARY 3 – MAR 18
Deloris Stewart – Memorialized Moments : capturing the soulful spirit of human nature
Sat, Feb 3, 2018, 1:00 PM; Sun, Mar 18, 2018, 5:00 PM
1978 MAPLEWOOD ARTS CENTER, 1978 Springfield Avenue, Maplewood
Dolores Stewart sculptures and paintings may be drawn from her own everyday observations, but they evoke not only the stories from her own past, but also our own. In her tender observations and personal memories we find a true dramatization of American culture.
Artist Reception : Sunday February 4th, 2-5pm
FEBRUARY 3 – 28
Sat, Feb 3, 20182:00 PMWed, Feb 28, 20182:00 PM
Paint & Chill
February 3, 9, 17, 22, 28 • Paint classes featuring black art, history, beauty
FEBRUARY 3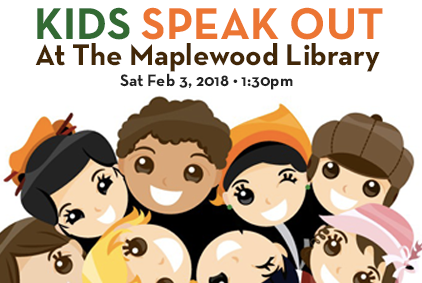 Saturday, February 3, 2018
2:00 PM  3:00 PM
Maplewood Public Library
Join us as we celebrate the work of students in our local elementary schools as they speak out about Black History Month. Refreshments will be served as students show off their artwork and read their poetry.
FEBRUARY 4
Trayvon Martin's Birthday Party
Sunday, February 4, 2018
2:00 PM  3:00 PM
Dehart Comunity Center
DeHart Community Center • 2 pm
Celebrate Travon Martin's birthday, remember his loss and learn about other important figures at the center of black activism and fight for racial equality.  Birthday cake will be served!  For all ages
For more information and to rsvp [email protected]
FEBRUARY 5
SHIRT DAY/BLACK EDUCATORS PANEL
Monday, February 5, 2018
6:30 PM  7:30 PM
Maplewood Middle School
Moderator: Valerie Trewick
Educator Panelists: Ikechukwu Onyema, Awo Okaikor Aryee-Price
Students Panelists: Tai Artis, Hadriana Lowenkron, Olivia Pryor, Valerie Trewick
Maplewood Middle School
7 Burnet St, Maplewood, NJ 07040
6:30-8:30pm
ASSATA SHAKUR & THE MOVEMENT FOR BLACK LIVES
Tuesday, February 6, 2018
6:30 PM  8:30 PM
Columbia High School
ASSATA SHAKUR & THE MOVEMENT FOR BLACK LIVES • TUESDAY , FEB 6
Columbia High School
17 Parker Ave, Maplewood, NJ 07040
6:30-8:30pm
Moderator: TJ Whitaker
Black Panther Party Panelists: Jamal Joseph; Baba Sekou Odinga; Bob Boyle,
Attorney; Dequi Kioni-Sadiki, Activist/Editor
Youth Panelists: Felicia George, Avery Julien, Amir Brown-Holt
FEBRUARY 7
DIVIDED IN A DIVERSE COMMUNITY
Wednesday, February 7, 2018
7:00 PM  8:00 PM
SOUTH ORANGE MIDDLE SCHOOL
Nikole Hannah-Jones is a winner of the MacArthur Genius Award, and the author of a highly influential, National Magazine Award, NY Times article documenting school segregation. She is the recipient of a Peabody and a George Polk Award for earlier work on the topic, and a founder of the Ida B. Wells Society for Investigative Reporting. In this evening presentation, Ms. Hannah-Jones will discuss: • Why intentional integration matters • Which school desegregation plans have worked, and which have failed, across the country and why 2/7/18 • 7:15 • South Orange Middle School Sponsoring Partners: PARES • SOMEA • MAC SCHOLARS
FEBRUARY 8
Thursday, February 8, 2018
6:30 PM  7:30 PM
Clinton Elementary School
QUEER AFFIRMING
Panelists: Danielle Scott, Art Teacher
Youth Panelists: Trae Ferguson, Malcolm Steele, Naadirah Douglas
Clinton Elementary School
27 Berkshire Rd, Maplewood, NJ 07040
6:30pm
FEBRUARY 9
WEEK WRAP-UP: EDUCATION POLICY
Friday, February 9, 2018
6:30 PM  7:30 PM
Columbia High School
WEEK WRAP-UP: EDUCATION POLICY •  FRIDAY , FEB 9
Columbia High School
17 Parker Ave, Maplewood, NJ 07040
6:30pm
Panelists: Elise Boddie, Rutgers University Law Professor & Andrea McChristian, Associate Counsel NJ Institute for Social Justice
Youth Panelists: Kristen Barber, Jazmyn Hamer, Giovania Jones, Tara Brown, Renee Martin
FEBRUARY 10
Durham NC Mayor Pro Tempore Jillian Johnson
Saturday, February 10, 2018
11:00 AM  1:00 PM
The Woodland
Celebrating and reflecting on black politics, progressive politics, and black history w/ Durham. NC Mayor Pro Tem Jillian Johnson
Program Description: At 36 years old, Jillian Johnson, from Durham NC was named Mayor Pro Tempore (Deputy Mayor) of Durham North Carolina, this year. Running unabashedly as an activist first, Johnson has been involved in the Moral Monday protests of North Carolina, and has spoken on the new civil rights battlefronts of the south. When discussing her run for office Johnson has said, "I knew that I would encounter some racism and sexism and some homophobia… I think I didn't realize how open people would sometimes be about it."
FEBRUARY 10
Saturday, February 10, 2018
3:00 PM  4:00 PM
Maplewood Public Library
A reception to celebrate our Black History Month exhibit, photography by Patrick Hilaire.
Live music will be provided by the performing arts group Ahmondylla Best & Wogbledoe. Ahmondylla Best's music draws on global ritual, Native American, African
as well as a personal and inherited American experience. She is a visual artist and
musician, author and composer, storyteller, performer, choreographer, filmmaker,
director, and educator.
FEBRUARY 11
Health Screening and Educational Program
Sunday, February 11, 2018
3:00 PM  5:00 PM
Hair Chalet
Dr Nikki Conte ND, doctor of naturopathy, will be doing a health screening and education program. Refreshments will be served. RSVP is appreciated 973 763-2272. This is a free event!
FEBRUARY 13
EDU-TAINMENT (e-dyu-'tain-ment) noun: Fun Learning
Tuesday, February 13, 2018
4:30 PM  5:30 PM
Maplewood Library – Hilton Branch
Join our lively celebration of Black History Month circling Africa, America and the Caribbean with drumming, storytelling, dance and a PowerPoint presentation of inventors and scientists. Enjoy a tasty snack, too! Fun for everyone. Presented by Katherine Hilaire.
Tuesday, February 13 • 4:30 pm at Hilton Branch
FEBRUARY 15
Hilton Neighborhood Association Celebrates Black History Month
Thursday, February 15, 2018
7:30 PM  9:30 PM
Deheart Community Center
The Hilton Neighborhood Association will celebrate Black History Month on Thursday, Feb. 15th at 7:30 PM at DeHart Community Center, 120 Burnett Ave. We will be sharing poetry written by African American poets. Background about the poet will be given and then attendees will take turns reading some of the poet's writing. Everyone is welcome to the meeting. You don't have to be a member of the HNA. It will definitely be a participatory way to become familiar and to enjoy writings of historic and current African American poets. For more information contact [email protected]
FEBRUARY 16 – 18
For colored girls who have considered suicide when the rainbow is enuf
Fri, Feb 16, 2018, 5:00 PM; Sun, Feb 18, 2018, 9:00 PM
The Burgdorff Cultural Center
4th Wall Theater presents Ntozake Shange's ground-breaking play at the Burgdorff Center for the Performing Arts.  A "choreopoem" that weaves together 20 separate poems with music, movement, and narratives to tell the stories of love, empowerment, struggle, and loss in a complex representation of African-American sisterhood.
FEBRUARY 16
Documentary Film "I Am Not Your Negro"
Friday, February 16, 2018
7:30 PM  10:00 PM
The Woodland
OSCAR Nominated I Am Not Your Negro envisions the book James Baldwin never finished, a radical narration about race in America, using the writer's original words, as read by actor Samuel L. Jackson. Alongside a flood of rich archival material, the film draws upon Baldwin's notes on the lives and assassinations of Medgar Evers, Malcolm X, and Martin Luther King Jr. to explore and bring a fresh and radical perspective to the current racial narrative in America.
FEBRUARY 17
Saturday, February 17, 2018
5:30 PM  6:30 PM
Village Coffee
Book Discussion!
CAN WE TALK!?
During Black History Month, Deputy Mayor Frank McGehee will lead two book club discussions. The first discussion will be on the book The Hate U Give by African American writer Angie Thomas on
The Hate U Give
Sixteen-year-old Starr Carter moves between two worlds: the neighborhood where she lives and the suburban prep school she attends. The uneasy balance between these worlds is shattered when Starr witnesses the fatal shooting at the hands of a police officer.
Everyone wants to know what really went down that night? And the only person alive who can answer that is Starr.
Saturday Feb. 17th, 5:30 PM ET at Village Coffee, 164 Maplewood Ave, Maplewood, NJ 07040
FEBRUARY 24
NAACP Black History Month Screening: Egypt Uncovered
Saturday, February 24, 2018
10:00 AM  12:00 PM
Maplewood Public Library
Recent technological advances illuminate one of history's most fascinating African
cultures. Egypt Uncovered reveals newly discovered monuments to fallen kings and
structures connected to the great pyramids, providing information about one of Africa's
greatest civilizations and documenting the black-African foundation of this civilization.
FEBRUARY 24
Saturday, February 24, 2018
2:00 PM  4:00 PM
Our Gang Travel
South Africa is the ideal destination for those seeking to combine a Big Five safari with the opportunity to experience cosmopolitan cities, richly diverse cultures, excellent wine and food and stunning scenery. Come join us for our discussion on South Africa and why it was a favorite destination for our clients in 2017 and why we are doing it again in 2018. www.ourganggroup.com
FEBRUARY 24 -25
Sat, Feb 24, 20184:00 PMSun, Feb 25, 20188:00 PM
Astah's Art Gallery
Astah's Art Gallery will present an exhibition of narrative artworks. The stories in the artworks shown will be inspired by many areas of life. Religion, history, culture, and current events to name a few. They can represent an idea, such as a belief, freedom, and encouragement. Narrative art is meant to teach, inspire, inform, and even to preserve memories and culture. It can be a way to understand the experiences of people from various places and times. Take time to explore the paintings on exhibit by our renowned artist. February 24 & 25 4-8 pm. 
FEBRUARY 24
Saturday, February 24, 2018
5:00 PM  8:00 PM
Morrow Memorial United Methodist Church (map)
Renewing Hope for Africa, America & The Caribbean
3 Caribbean Authors with a Global Story
Book Reviews • Documentary • Q&A • International Guests
Rev. Frank Aguilh (Haiti)
HAITI: CRIES FROM THE HEART
Haiti Hope House: United Methodist Church
Theophilus Nicholson (Grenada)
IRONY
Network of Christian Men, Newark NJ; Morrow United Methodist Church
Rev. Dr. Alfred Johnson (Jamaica)
AMBASSADOR TO THE GLOBAL VILLAGE
Missionary – Congo; Church Planter – Nigeria; Presbyterian Church (USA)
Special Guests:
Mme Christine Bokumwana, Baptist Church of Upper Congo
Apostle Janet Bwalya, Missionline Ministries, Zambia
Saturday, February 24, 2018 • 5:00pm
Morrow Memorial United Methodist Church
600 Ridgewood Rd. Maplewood, NJ • (973) 763-7676
Rev. Dr. Brad Motto, Host Pastor
Book Signing & Light Refreshments
25% Book Sales for Mission Projects
Haiti Hope House, UMCOR – Sierra Leone
Community Food Bank, Newark NJ
For Info Call: (973) 731-6776 or (973) 444-5797
"Aren't you (Paul) the Egyptian?" Acts 21:38
FEBRUARY 25
Screening of film "Garret's Gift"
Sunday, February 25, 2018
12:00 PM  1:30 PM
Dehart Center
What: A screening of "Garrett's Gift", a film honoring Garret Morgan, the inventor of the traffic light, and an opportunity to create your own invention. Ages 2-8.
When: Sunday, February 25th • 12:00pm – 1:30pm
Where: Dehart Center • 120 Burnett Ave. Maplewood, NJ
In celebration of Black History Month.
Sponsored by SOMA Justice & Township of Maplewood.
FEBRUARY 26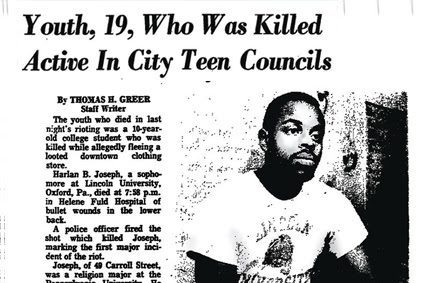 Telling the Story of Harlan Joseph
Monday, February 26, 2018
7:00 PM  10:00 PM
In the days after the assassination of Dr. Martin Luther King Jr., violence erupted across
the US. The details of how those nights of violence played out in Trenton—the lootings,
fires and arrests—are the subject of Purcell Carson's forthcoming documentary, which
focuses on the story of one African-American teenager, Harlan Joseph, who was
accidentally shot and killed by a Trenton police officer. This talk offers a behind-the-
scenes look into the making of the documentary film – a film that traces the details of
Joseph's life and death – and an opportunity to discuss the way the past still resonates
today.
Purcell Carson is a documentary filmmaker and lecturer in Princeton University's
Woodrow Wilson School. This program is made possible through the New Jersey
Council for the Humanities.
FEBRUARY 28
Coalition on Race Honors Black History Month with the authors of Tasting Freedom
Wednesday, February 28, 2018
7:00 PM  8:00 PM
Maplewood Memorial Library
Coalition on Race Honors Black History Month with the authors of Tasting Freedom: Octavius Catto and the Battle for Equality in Civil War America.
Tasting Freedom: Octavius Catto & The Battle For Equality In Civil War America.
February 28th 7pm Wednesday
Maplewood Memorial Library Presented by the Schools Committee
South Orange/ Maplewood
Community Coalition on Race