The following is from The Maplewood Department of Recreation and Cultural Affairs and The Springfield Avenue Partnership: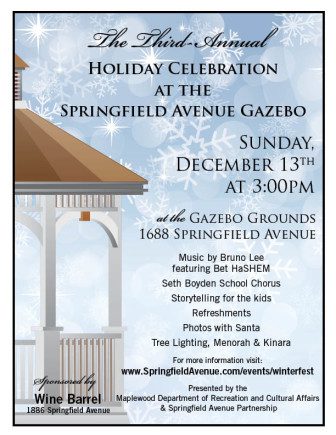 The 3rd annual Holiday Celebration on Springfield Avenue will be held Saturday December 13 from 3-4:30pm.
This cross-cultural holiday celebration is sponsored by Wine Barrel and will take place at the Gazebo area near the Hilton Library Branch, 1688 Springfield Avenue. The event will feature live music, free refreshments, a visit from Santa and friends, a tree and Menorah lighting, a Kwanzaa reading, raffle and more.
"The Gazebo area provides a festive holiday backdrop and we are thrilled to be bringing back this Maplewood holiday tradition for its third year," said Keith Knudsen, Maplewood's Director of Recreation. "It's a great opportunity to celebrate the season with family, neighbors and friends."
Holiday music selections will be performed by Bruno Lee featuring Bet HaSHEM and the Seth Boyden Elementary School Chorus.
Julie Doran, Springfield Avenue Partnership Director, added, "The Springfield Avenue Partnership is delighted to delighted to co-host the Holiday Celebration again this year and thrilled to have our newest business, Wine Barrel at 1886 as our sponsor."
This event is free to the public.
Visit https://www.SpringfieldAvenuePartnership.com/events/winterfest for more details.
Schedule of events
3:00 Live music with Bruno Lee featuring Bet HaSHEM
3:30 Seth Boyden School Chorus
3:45 Santa Arrives
3:50 Live music with Bruno Lee
4:00 Holiday stories at Hilton Branch Library and holiday craft
4:15 Holiday Dance Performance with Inspirational Dance Company
4:30 Tree Lighting and Menorah Blessing with Mayor DeLuca