From the South Mountain PTA: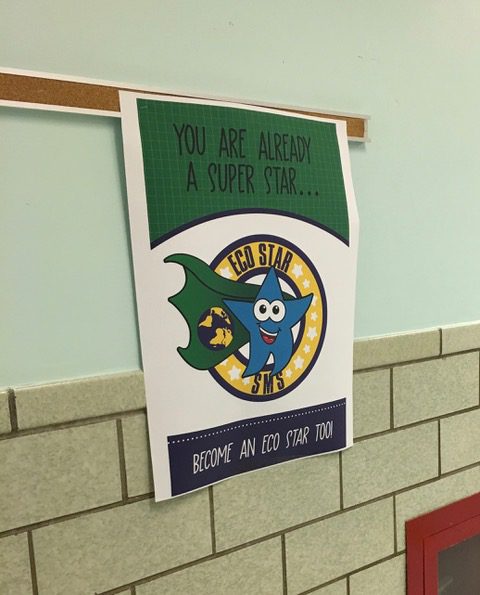 South Mountain Elementary students in South Orange, NJ are stepping up to support the environment, a local embodiment of a global youth-led movement against climate change.
At the beginning of February, students in Mrs. Salvas/Mrs. Barlow's first-grade class emerged very excited from an assembly on the topic, "Love your planet: Zero-Waste Valentine's Day." The assembly was organized by South Mountain's Green Team, comprised of students, teachers, and parents promoting earth-friendly actions by members of the South Mountain community. The Green Team launched an "Eco Star" program this year, through which students in all grades and classrooms learn about and engage in activities related to a different environmental topic every month, and record their efforts in Eco Star journals.
Following the assembly, some of the first-graders were so motivated that they voluntarily put aside their play during the daily classroom
"Choice Time," and instead talked, brainstormed, and even made signs about reducing waste. Meanwhile, a group of fifth-graders in Mrs. Conyers's class has also given up some of their free time for the sake of the environment. Joshua Barton, Asia Dixon, Orcasia Facey, and Riley Johnson call themselves the "Green Tweens," and they organized to educate classmates about environmental challenges, and motivate them to take action. They spend some of their recess periods planning their initiatives with their Green Team advisor, kindergarten teacher Mrs. Watkinson.
The Green Tweens are currently working on eliminating non-recyclable, non-reuseable plastic sporks from the South Mountain cafeteria. They have been gathering student signatures on a petition to the school district administration on this issue, and have already had some success in creating a more sustainable lunchroom: utensils and napkins are no longer distributed as a package wrapped in plastic, and instead students can now singly take a spork or napkin.
The Green Tweens are making bracelets to sell for $1 each on Earth Day, April 22, with the proceeds to go toward making South Mountain Elementary more eco-friendly. The Green Tweens are also calling on their classmates to do the following on the week of Earth Day:
Tuesday, 4/23: Reduce packaging and waste by bringing lunch and snacks in reusable containers
Wednesday, 4/24: Reduce plastic waste by bringing your own reusable fork or spoon to the lunch room
Thursday, 4/25: Wear green and bring a reusable water bottle
Friday, 4/26: Celebrate Earth Day with music in the lunch room
April's Eco Star topic is "What is a Storm Drain?" This topic is an effort to educate the school community that storm drains eventually connect to the ocean, and if trash enters a storm drain it causes harm to sea animals and the eco-system. The Green Team has encouraged South Mountain teachers to announce each month's Eco Star topic in class, and to initial the page in students' Eco Star journals when they complete suggested activities. Mrs. Barlow introduces a topic at the beginning of the month during her first-graders' "morning meeting," and then revisits the topic at the end of the month. She has been impressed with the initiative of her students who have gone beyond what was suggested by posting their writings in the first grade hallway at the South Mountain Annex, and helping set up a process to ensure waste is recycled in the classroom.
These first-graders and the Green Tweens represent a generation that could be dramatically affected by environmental degradation, and they are responding as proud stewards of the earth. The Green Tweens will be moving up to middle school next year, but they will not soon be forgotten at South Mountain. If reusable metal utensils become a reality at the school, that will be their legacy. The Green Team looks forward to benefitting from the input of additional students that all these young activists have inspired to keep up the drumbeat in years to come.
For more information about the South Mountain Green Team, please contact [email protected].