The controversy surrounding the Complete Streets Initiative has been brewing for some time. Township Committee meetings have been standing room only for months and in recent weeks have occasionally erupted into an angry public haranguing the committee.
Dueling social media groups have sprung up on either side of the debate. A small group of residents opposed to the project gathered Friday on Main Street to protest filming of a video aimed to promote the project. Filming was canceled, for permit issues.
"This has been disastrous, and the township committee is singularly unresponsive," said protest organizer Sarit Catz, "The last election the people who were responsible for bringing Complete Streets on board were voted out. It was a clear statement by the residents; the taxpayers — we don't want this. They're going to start construction next week, and we've asked them to hold off, but they just push it through."
The completion of phase 1 which involves the section of Millburn Ave. from Douglas to Spring St. was slated to resume Monday, September 11.
"No one is 'pushing' this project forward. If anything, it is moving at a snail's pace," countered Mayor Cheryl Burstein. "We are merely finishing the first phase of a 3 phase project. This phase was always slated to be finished, it is part of the contractor's contract, but was tweaked by the ad hoc committee."
Discussions for Complete Streets began in 2013, when Millburn resident Jennifer Duckworth, co-chair of the Essex County Environmental Commission, brought the idea to the Committee as part of the Safe Routes to School program.
Read more about the project on the Millburn Township website.
Former PTO Committee co-president Caroline Updyke says the PTO Committee was contacted by former Mayor Ted Bourke and deputy mayor Ian Mount to give parent feedback and as well as participate in meetings with merchants and other key stakeholders. "The effort to communicate what was coming was there," Updyke states.
South Mountain resident Layni Rothbort disagrees, alleging that part of the problem is that when the township committee solicits opinions of residents, they ignore those who live in the South Mountain and Washington neighborhoods. "So yeah, some people may have been approached to discuss the plan [but] it wasn't us."
Updyke acknowledged one of the key frustrations residents and visitors have expressed with the project: the narrowing of Millburn Ave. to slow traffic: "What was lost I think, [in communication] was the emphasis on turning Millburn Ave. from a cut-through to a pedestrian walkway."
"By removing a lane of traffic, we create a traffic calming and pedestrian friendly downtown," says Dave Lustberg, CEO of Arterial, LLC., the company engaged by Millburn to design the Complete Streets project. Lustberg recognizes there will be an initial period of 'strife' as drivers grow accustomed to the new layout, but stresses that studies show that even reducing vehicle speed 5 mph from 30 to 25 reduces the chances of fatality in vehicle vs. pedestrian accidents by 35%.
"They may have reduced traffic on Millburn Ave.," says Rothbort, "but now we have cars speeding through the South Mountain and Washington neighborhoods. People are angry looking for a cut through to get out of traffic. They may have decreased the likelihood of a kid getting hit on Millburn Ave, but with the new Washington school open, they've created the perfect storm for an accident in our neighborhoods."
Committeewoman Dianne Eglow, who was elected last year based on her opposition to the project, said,"Vehicles are part of our society and like water will seek the quickest route. Unfortunately, that is now causing increased traffic flow into the two adjacent neighborhoods: South Mountain and Washington."
Mayor Burstein agrees that schools will impact traffic. "Logically, there will inevitably be an impact. There always has been."
Burstein empathizes with residents and merchants and says that while the short-term pain is difficult, the result will allow the Township to flourish throughout the decades to come.
"Traffic will continue to get worse – not because of the project, but because that is our society." Burstein continues, "There are more drivers; there will likely be more residents as the use of retail space changes. We have to address those issues as they arise and attempt to ameliorate them – but we cannot pretend that if we do nothing, then nothing will change. That's simplistic and unrealistic."
Eglow disagrees that the project is the answer. While she believes the concept of Complete Streets was passed with good intentions, "The plan itself is at fault, as well as its implementation."
Residents on both sides of the issue agree that implementation of the project has been an issue.
"I think people are confusing the implementation of the project with the project aims," said Duckworth, an Engineer who has sat on the Essex County Transportation Advisory Board. While she is pleased the project is underway, she agrees the township could have done a much better job rolling it out. She and others question why the previous administration didn't add a town planner to the original Ad Hoc committee, for example, or why the Ad Hoc committee met without inviting all the members over the course of two years.
"Everyone is for pedestrian safety, my kids walk around here, we're residents," said Catz, "But this is not the only way to achieve pedestrian safety. There are many options, less expensive options: timing lights, footbridges, more stop lights. Why weren't we allowed to vote on the issue?"
Catz is referring to a failed motion to place a non-binding referendum on the November ballot that Eglow put forward in committee in August."The referendum was absolutely not a political stunt. It was a last and desperate attempt to give voice to the residents who have felt bullied, ignored and frankly angry about the process and the response from their elected officials," said Eglow in response to accusations of political grandstanding. Local merchants and residents in favor of the referendum distributed a petition but failed to get the necessary 1,500 signatures to get it on the ballot.
"We got hundreds of signatures," said Catz, "In spite of it being the weeks right before Labor Day when no one is in town."
Communication from the town about the project has been another sore spot. "Did anyone question the choice of public meeting or posters before or during the planning stage?" asked Duckworth.
Lustberg recognizes that a person standing on the corner with the poster board might not have been the most efficient way to announce the project to the township.
Burstein has noted an increased effort on the part of the administration to communicate with shop keepers in impacted areas. "We are also very cognizant of the problems caused by the construction last time and have made efforts to keep a short leash this time." said Burstein, "Whenever changes are made, it poses difficulties, and this project is no exception. There are clearly some unanticipated consequences, and there are a couple of aspects of the project that may be problematic — but there is nothing that cannot be addressed with some thoughtfulness and time."
Cassie Fishkin says time is a luxury many business owners in town do not have. Fishkin, the owner of Casita Mexican Restaurant, said she thought she could initially 'out-market' the precipitous slump her restaurant encountered at the start of construction. "But then I realized it's the publics perception about the town, and I can't out-market public opinion."
Additionally, Phase 1, which many downtown retailers have claimed has negatively impacted their business by 30-40%, has also affected her delivery business by increasing wait times while delivery drivers maneuver through traffic.
Perhaps most alarming, Fishkin says when a friend fainted and hit her head during a class at FlyWheel on Millburn Ave, "Getting her from inside the building onto the ambulance took 13 minutes, and that was at 6 am." She continued, "EMT's struggled with getting the gurney through the bolsters, and with parking in the flexible parking area." She says the ambulance was then made to wait at the light because of cross traffic. "Imagine if this was later in the day?"
The dislike of flex parking and curb 'bump outs' seem to be universal. "Flexible parking is idiotic. If you parallel park close enough to the bolsters not to be hanging over into the street, you either can't open your car door, or you damage it," Catz complained. "Where is the snow going to go in winter? What happens when things get icy?" "I'm not a fan," says Updyke.
Short Hills resident Sonali Ganti said she spoke at a TC meeting to share her dislike of the flex parking and bump outs. "But I also let them know I appreciate the much-needed revitalization of downtown. I think it's human nature, people are always quicker to complain than they are to give positive feedback."
Ganti, a fan of the project, has taken advantage of the newly installed parklets to spend time with her family. "We enjoyed eating our ice cream and playing Connect Four together for over an hour one evening. This has made me want to spend more time downtown."
Resident Micole Cohen Richter is also in favor of the project. "I have two thirteen-year-olds and a ten-year-old. I want them to be safe walking around town. Before Complete Streets, I was worried that they would be run over. That feeling hasn't completely dissipated, but it has improved significantly. I am all for sacrificing road space and speed if it saves even one life!"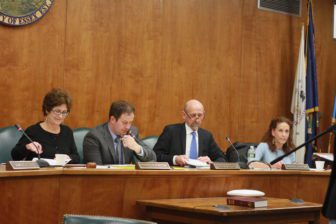 Burstein has faith residents will eventually come to see the value of the project. "When the Township purchased the Paper Mill Playhouse, there were many unhappy residents who did not believe that the Township should be spending millions of taxpayers' dollars to do so," she said. "That purchase was a very wise investment – our investment allowed the institution to flourish, which in turn supports and feeds our downtown. There are always those who disagree with those decisions, and there always will be. However, the Township Committee is elected to make decisions it believes is in the best interest of the community as a whole. It has done that in the past and will continue to do so."