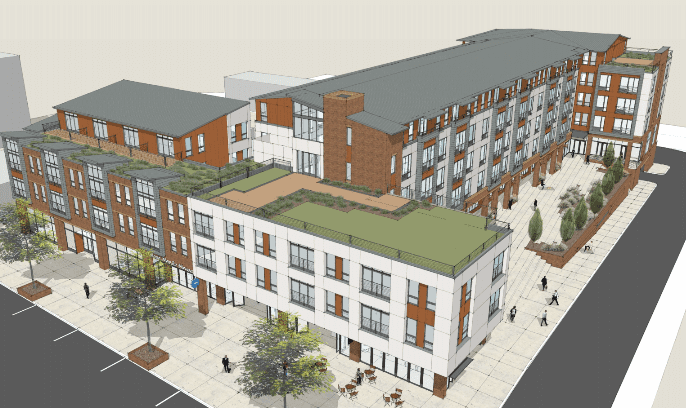 With minor changes made, the plan to redevelop the Monte Motors property at 4th & Valley was approved by the South Orange Village Board of Trustees on April 24.
The new development by Meridia Capodagli Property will include 106 units of housing and 8,600 sf for retail (down from a proposed 10,000 sf discussed at a December meeting). The minor changes included a further setback and increased space for a public plaza on 4th Street, said Village President Sheena Collum.
The proposal has garnered community support.
"This is the ideal of what a public process should be like," said Academy Heights neighbor Andrew Kitt at a public forum in December discussing changes to the development on the southwest corner of 4th Street and Valley Street in South Orange. "I could not be more satisfied with the outcome."
Collum said that the plan is the result of a two-year process moving through several committees working with "reputable developers" and incorporating comments of residents as well as input from the South Orange Village Center Alliance.
Collum noted that the town had not yet finalized a financial agreement with the developer. She said that the property is eligible for a 5-year abatement and no more than that. Collum also reiterated that the plan had been found consistent with the South Orange Master Plan by the South Orange Planning Board.
In response to a comment by resident Alyssa Aronson, Collum said that height, density and traffic circulation for the development was extensively vetted and that the town had negotiated with the developer to reduce the size of the development — originally proposed as a  330-unit project. Collum also told Aronson that the plan included traffic calming improvements to Valley Street that would help transform the street from "auto-centric" to pedestrian-friendly.
The plan was approved by the Trustees by a vote of 6-0.