The following is from Seton Village Committee

South Orange, NJ's Seton Village Committee is delighted to bring "Light Up the Holidays in Seton Village!" back to the entire community for the third year. This year, the tree lighting celebration will take place on Saturday, December 3 from 5:00 pm to 6:30.
See photos of previous years' events here and here. 
The celebration, which is free and open to the public, will be held in and around the pocket park at Irvington and West Fairview Avenues in the Seton Village neighborhood of South Orange. The lighting of the 20-foot tree that borders the park will take place just after the arrival of the evening's special guest: Santa Claus, who will also be available for picture-taking.


"As we mark the third year of focused work toward our mission in Seton Village, it is wonderful to celebrate with this event, which truly has something for everyone," said Doug Zacker, chairperson of the Seton Village Committee. "The tree lighting is the culmination of all the work our volunteers have done to beautify the corridor and make it a destination for shoppers, restaurant-goers, Seton Hall University students, and neighborhood residents alike."
One new addition to the holiday festivities is South Orange's Work and Play, which will present a variety of children's activities, such as decorating dough, excavating objects from ice, and the always popular slime. Work and Play is the tri-state area's first coworking facility with flexible childcare. "At Work and Play, we value community and enjoy creating opportunities for children to learn and discover," said Deborah Engel, founder of Work and Play. "We look forward to hosting our holiday-themed activity station during Light Up the Holidays."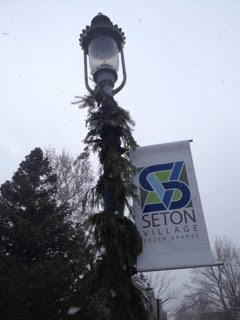 In addition to kids' activities, the event will feature music from a variety of local entertainers, including a performance from Seton Hall University's a cappella group The Gentlemen of the Hall, a preview of an upcoming children's show from interACT Theater Productions, and the crowd-pleasing stylings of Columbia High School's a cappella group Unaccompanied Minors.