There are many events to enjoy this last weekend of January!
Here's what's happening in the Villages (and beyond) this weekend:
Beginning this Friday, The Strollers will present the original family show CRE-A-TION: One World, Many Beginnings – a treasure trove of creation stories from around the world told through tales, songs and dances.
CRE-A-TION: One World, Many Beginnings
Jan 29 at 7 pm,  Jan 30 and 31 at 12 pm and 2 pm
Burgdorff Center for the Performance Arts, 10 Durand Road, Maplewood
Tickets are  $10 and can be purchased online here
Get cooking with a date night at Kings Cooking Studio in Short Hills on Friday. The "Couples – Cucina Rustica" class will have you and your sweetheart will have and your friends you cooking up delicious Italian fare: Garlic Bread French Fries with Fontina Fonduta, Cavatelli with Ricotta-Pancetta and Red Pepper, Chicken Scarpariello, Porchetta with Fennel-Sage and Rosemary, Garlic Mashed Potatoes, Marinated Green Bean Salad, Apple and Pear Gratin
Kings Cooking Studio: "Couples – Cucina Rustica"
Friday, January 29 from 6:30 pm – 9:30 pm
Kings Cooking Studio, 778 Morris Turnpike, Short Hills, NJ
Cost is $70 per couple. Register online here
Shuffle, Jump & Moan — a compilation band comprised of United Jersey Blues Network performers that play in other top area bands — will perform at Hat City Kitchen in Orange on Friday night. Their style of the music covers traditional blues from masters like T-Bone, Gatemouth Spaan and BB. Plus covers tracks from contemporary greats like Clapton, Cray, Lang, Stevie Ray and more.
Shuffle, Jump & Moan
Friday, January 29 at 8 pm
Hat City Kitchen, 459 Valley Street, Orange, NJ
$10 cover
Robyn Hitchcock, one of England's most enduring contemporary singer-songwriters and live performers, will perform at SOPAC on Saturday, January 30. A surrealist poet, talented guitarist, cult artist and musician's musician, Robyn Hitchcock is among alternative rock's father figures and is the closest thing the genre has to a Bob Dylan, who is, coincidentally, Robyn Hitchcock's biggest musical inspiration. Since founding the art-rock band The Soft Boys in 1976, Robyn Hitchcock has recorded more than twenty albums, as well as starred in 'Storefront Hitchcock,' an in-concert-film recorded in New York and directed by Jonathan Demme. Blending folk and psychedelia with a wry British nihilism, Robyn Hitchcock describes his songs as "paintings you can listen to."
Robyn Hitchcock
Saturday, January 30 at 8 pm
SOPAC, One SOPAC Way, South Orange, NJ
Tickets are $32 – $38 and can be purchased online here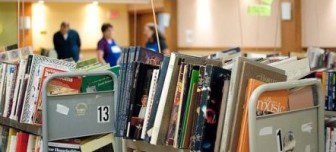 The Friends of Maplewood Library's Bag-of-Books Sale takes place on Saturday at the library.  There will be lots of great books available in a variety of genres in hardback and paperback — fiction, mystery, classics, romance, history, biography, science, business, cookbooks, sports, hobbies, non-fiction, children, tween. Fill a bag (provided by Friends) for only $8! Books also sold individually: Hardbacks and Trade or Larger Paperbacks–$1; Mass Market Paperbacks—50 cents. Enjoy shopping for great bargains and help Friends support the Library.
Friends of Maplewood Library's Bag-of-Books Sale
Saturday, January 31 from 10 am – 4:30 pm
Maplewood Memorial Library, 51 Baker Street, Maplewood, N
Bag for $8 or individual books for $.50 – $1
The 7th annual Concert for Haiti takes the stage in Montclair on Saturday. It's a night of great music, community connection, and fundraising for WhyHunger, Haitian Education Leadership Program, Edeyo Foundation, and Lamp for Haiti. Enjoy musical performances by: Aztec Two Step, Jen Chapin, Paul Beaubrun with Zing Experience, Richard "Earthman" Laurent and Soleil Laurent, Big Mamou, Passing Notes, and more.
Concert for Haiti
Saturday, January 30 at 7:30 pm (doors open at 7 pm)
UU Congregational Church, 67 Church Street, Montclair
Tickets are $25 in advance/$30 at the door. Available online here
The NJ premiere of "A Thousand and One Journeys: The Arab Americans," a documentary directed and produced by Essex County resident Abe Kasbo will screen at Seton Hall University on Sunday. At the conclusion of the screening, there will be a Q&A session. "A Thousand and One Journeys: The Arab Americans" shares the untold story of almost 200 years of the contributions made to the American fabric by those who immigrated to the United States from the Middle East, North Africa and the Gulf. The film provides viewers with a first-ever documentary of the Arab-American experience as told through the eyes of famous and everyday people, including: the late Pulitzer Prize-winning journalist Anthony Shadid; Former Majority Leader Sen. George Mitchell, who served as U.S. Special Envoy for Northern Ireland and Middle East Peace; comedians and natives of New Jersey Dean Obeidallah and Maysoon Zayid; consumer advocate and former presidential candidate Ralph Nader; American racing legend Bobby Rahal; composer and pianist Malek Jandali; the late White House correspondent and journalist Helen Thomas; actor and M*A*S*H star Jamie Farr; and actor and founder of St. Jude Children's Research Hospital Danny Thomas.
"A Thousand and One Journeys: The Arab American" screening
Sunday, January 31 at 2 pm
SHU, Jubilee Hall Auditorium, 400 South Orange Ave, South Orange, NJ
Tickets are $20 and can be purchased online here
Garrison Keillor, award-winning theatrical storyteller and host of public radio's A Prairie Home Companion, performs an evening of homespun humor at NJPAC on Sunday. Grammy winner Garrison Keillor counts more than 17 million listeners among his fans and has performed in concert halls and with orchestras throughout the country (with Philip Brunelle) as a member of The Hopeful Gospel Quartet and on tour broadcasts of A Prairie Home Companion.For this performance, he will be joined by keyboardist, composer and arranger Rich Dworsky, leader of The Guy's All-Star Shoe Band on A Prairie Home Companion.
Garrison Keillor
Sunday, January 31 at 7 pm
NJPAC, 1 Center Street, Newark, NJ
Tickets are $$39.50 – $59.50 and can be purchased online here
Check out our Events Calendar to see what else is happening in the towns and have a wonderful weekend!