From the Maplewood-South Orange Book Festival: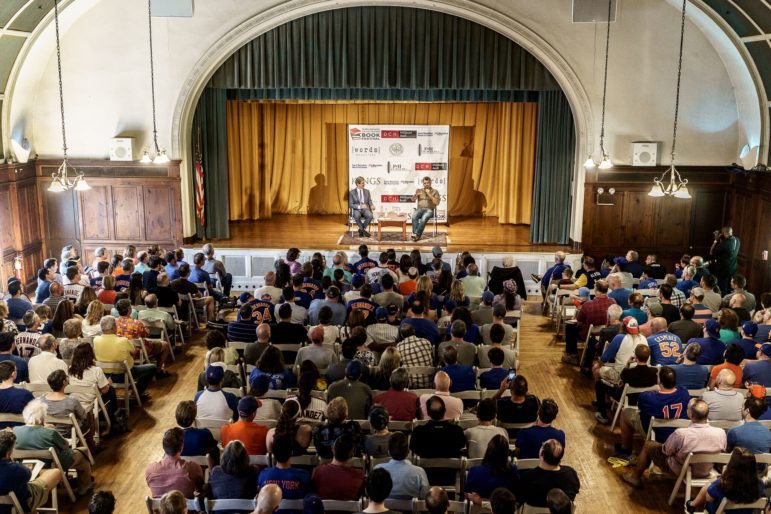 Over 2,000 people attended the second annual Maplewood-South Orange Book Festival on June 8 and 9. "We are so happy and grateful for the support of the SOMA community," stated festival director Robert Lasner. "We were able to double our attendance from 2017, and we are thrilled that so many had such a good time enjoying books and authors. Reading is fun!"
The festival opened with a packed Friday night reception and talk with best-selling author David Baldacci that doubled as a benefit for the Maplewood and South Orange libraries.
The main festival on Saturday featured an overflow crowd for Mets legend Keith Hernandez, who appeared in support of his new memoir. Talks by Anna Quindlen and Tayari Jones each drew more than 200 people each, and there were also 15 panels on a variety of topics. Local authors who took part included Pamela Erens, Helen Wan, Shannon Sarna, Beth Ritter Nydick, Tara Roscioli, Khalil Gibran Muhammad, Tina Kelley, Melanie Conklin, Holly McGhee, Christopher Healy, Ethan Berlin, Anne Fernald, Jessie Sima, Kristin Mahoney, and others.
Nearly 40 authors appeared in the festival's children's area, which also included fun, games, music and face-painting. The festival closed with a children's keynote by Max & Ruby author Rosemary Wells.
The festival wishes to thank its sponsors, including DCH Millburn Audi, our children's area sponsor, JMF Properties, St. Barnabas, Words Bookstore, BCB Community Bank, Seton Hall, South Orange Country Day School, King's Food Markets, Able Baker, Sonny's Bagels, Ken Krasner and Fringe Salon. Additional thanks to Maplecrest Moves Charities, Work and Play, Macaroni Kids, The Writer's Circle, Miss Nina and her magical guitar, Campbell Charshee and his magical keyboard, and Ileana Castillo for all the painted faces. A special thanks to the Township of Maplewood, Mayor Vic DeLuca and the entire township committee, and especially Andrew Fishman at Cultural Affairs.
Mark your calendars: the Third Annual MAPSO Book Festival will be held on June 7 and 8, 2019.