Shakespeare died on his 52nd birthday: April 23, 1616.
Just before his 459th birthday, April 20, 2023, Columbia High School (CHS) held its 21st annual Shakespeare Festival.
Each year has a different quote, decided by the Shakespeare Festival Club, and a logo, chosen and designed by CHS students in a competition. This year's quote was "There's magic in the web of it," from "Othello." The Infinite Step Team, over one hundred performers from ten different classes, and an army of stage crew members made this year's festival possible. 
Preparations had already begun several months earlier with the gathering of supplies and planning of scenes. Tanks of helium for the balloons sat in their boxes for months in the room of English teacher Mr. MacPherson, who runs the Shakespeare Club. Mr. Mac, as students call him, does much of the planning for the festival and teaches the excellent Shakespearean Literature course. There were so many boxes for the helium that they covered a large drawing of Shakespeare on the wall. These boxes were eventually joined by boxes of giveaways ― shirts, mugs, bags, and pins ― and this legion of boxes sat through the creation of Bard Bars by the Shakespeare Club, who met every day the week prior to the festival to plan. All of the giveaways bear the year's logo and quote, and the shirts were handed out to all of the performers. Traditionally, the shirts are white with black lettering, but this year the club branched out, making shirts in colors like blue and gray. The Bard Bars are a true tradition as well; they were the first giveaway of the festival, dating back to its premier in 2002. 
The big day started at 6:30 a.m., as students and teachers, some already dressed in costume, slowly shuffled into Mr. Mac's room to blow up balloons and set them out throughout the auditorium. A party with hot chocolate, doughnuts, and, of course, coffee is held to blow up balloons and get everyone in the Shakespeare-ish spirit! (And yes, it is exactly as chaotic as a bunch of high schoolers with sugar and coffee sounds.) 
By 7:55 a.m., as students were just beginning to enter the building, preparations were finishing up. Armed with programs and seating charts, the Shakespeare Club members helped organize the first wave of English classes, while those behind stage prepped for their performances. The stage crew, who had been working tirelessly for the week prior on microphones and lights, were ready to go. A film crew and photographers were there setting up to record the festival, and even the Columbia Cougar made a surprise appearance. The festival was a massive hit. 
Each period opened with a performance by the high school's Infinite Step Team. The Step performance talked in part about the racism working against Othello throughout the play. Not only did they do a great job putting it together in such a short time, but they had to perform for eight consecutive periods ― and they were spectacular every time. The periods would then turn to student performances, each with its own spin on a scene from a Shakespeare play, from oft-referenced ones like "Romeo and Juliet," "Macbeth," and "Hamlet" to others like "Henry IV Part I," "Julius Caesar," and "Titus Andronicus." While comedies may seem underrepresented, ones such as "Twelfth Night" and "The Tempest" still made appearances. Students loved best, however, to make the tragedies their own by putting comic spins or by reveling in happier scenes. One performance of the Balcony Scene from "Romeo and Juliet" ("O Romeo, Romeo! wherefore art thou Romeo?") included music, causing the enthusiastically responsive audience to wave their phones like lights in a concert. It was such a showstopper that Mr. MacPherson turned to me after coming in toward the end to ask, "Is this a promposal?"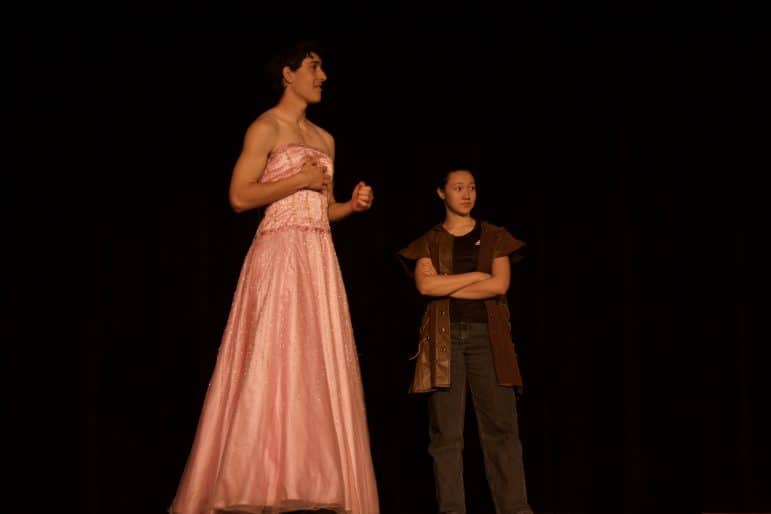 The Shakespeare Club, working mostly behind the scenes this year, only played one scene: the "Seven Stages of Man" monologue from "As You Like It." Club members acted out the different stages of life, from infancy to the "second childishness" of old age. The performance was a hit, and the Shakespeare Club has bigger plans for next year. It's exciting to see the group rebuild after membership declined during the COVID-19 pandemic. Tali Ben-Ari, '24, a leader of the Shakespeare Club, helped to rally new members. She remarked that the club is "one of my favorites… mainly because of the community and chaos that we are able to partake in." Shakespeare's writing comes alive in the weekly meetings, according to Ben-Ari. "I hope more people will become aware of… how fun it is to perform Shakespeare in a non-academic setting." 
The Shakespeare Festival didn't only consist of scenes. There were also emcee-hosted games to test the audience's knowledge of Shakespeare (prizes were chocolate Bard Bars, of course). The most popular of these games is usually "Shakespeare or Hip Hop?", where students have to identify if a quote was written by Shakespeare or a hip-hop artist. There was also a new game this year, Shakespeare Trivia, created by the club and consisting of questions such as "Which way did Shakespeare not write his own name?" (From a selection of answers including "Willm Shakp" and "Wm Shakspe," the correct answer was actually "William Shakespeare"!) 
In the end, April 20 was a crazy, exhilarating day. Shakespeare's words were recited, played, transformed, and occasionally extemporized upon. At CHS, Shakespeare's writing is not dry and highfalutin, but alive and preserved through silliness and liveliness. One of the joys of the festival is that it's not perfect ― sometimes someone flubs a line, leaves in a dirty joke, or misses a cue. But the show must go on, just as it did in Shakespeare's time. In "As You Like It," he wrote that "all the world's a stage," but the CHS Shakespeare Festival continues to prove that the stage can also be a whole world.
Pictures used with permission from the photographer, Sophie Kessler; logo was created by sophomore Sallie Thoroman.

Ben Gevirtz is a junior at CHS, and a CHS Shakespeare Festival and Shakespeare Club member.