From the South Orange/Maplewood Community Coalition on Race: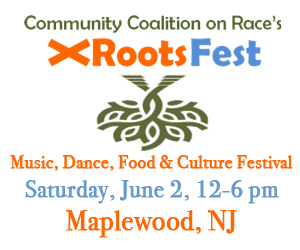 The South Orange/Maplewood Community Coalition on Race is proud to present the 5th annual XRootsFest (CROSS-roots-Fest) at Maplewood's Memorial Park on June 2, from 12 pm to 6 pm, a free annual multicultural heritage festival that is one the most diverse and interactive events in the area. Returning for its fifth season, XRootsFest will be a day filled with musicians, dancers, food vendors, activities and merchants rooted in the cultures of four continents that will weave together a fabulous afternoon of entertainment for you, your family and friends. Beatrice Carter, radio and TV personality, will return to MC the event.
Families with kids of all ages will enjoy the popular "Big Edu-tainment Tent," featuring hands-on activities like painting with Brush with Greatness, storytelling and cultural exchanges with ambassadors to learn about practices from around the world to keep attendees entertained all day long. The festival brings together a variety of talented performers who showcase the many cultures in our community, Essex County and throughout New Jersey. Here's a sample of the dynamic lineup of multicultural performances:
Johnathan Celestin, soul singer who spreads love and solidarity to marginalized voices
NYC-based Taiko drumming/NY style street dancing group Cobu
Drums from Heaven drum circle
Native American performance group Red Storm Drum and Dance Troupe
Native American and African ritual storytelling by Ahmondylla Best
Calypso, Reggae African and Latin performances by Exodus Supreme
USAAMA, pre-professional performing youth company preserving African dance & song
Traditional performance by the Vietnamese Heritage Center
American dance and music by Pat Cannon's Foot & Fiddle Dance Company
Zumba dance and aerobic choreography by Z3 Elements
Flamenco music and dance by Viva Flamenco
For more information on XRootsFest, visit www.twotowns.org/Xrootsfest or call 973-761-6116.
The South Orange/Maplewood Community Coalition on Race is a nationally recognized non-profit organization committed to building a unique, suburban community that is free of racial segregation in housing patterns and community involvement. The Coalition was founded in 1996 by a diverse group of citizens concerned about stagnating property values and a perceived decline in the quality of local public schools. More than twenty years later, the Coalition has developed programs that promote the advantages of living in a racially inclusive community where all aspects of community life are integrated. To learn more about the Coalition and how you can get involved, go to www.twotowns.org and connect with us on Facebook, Twitter and YouTube.