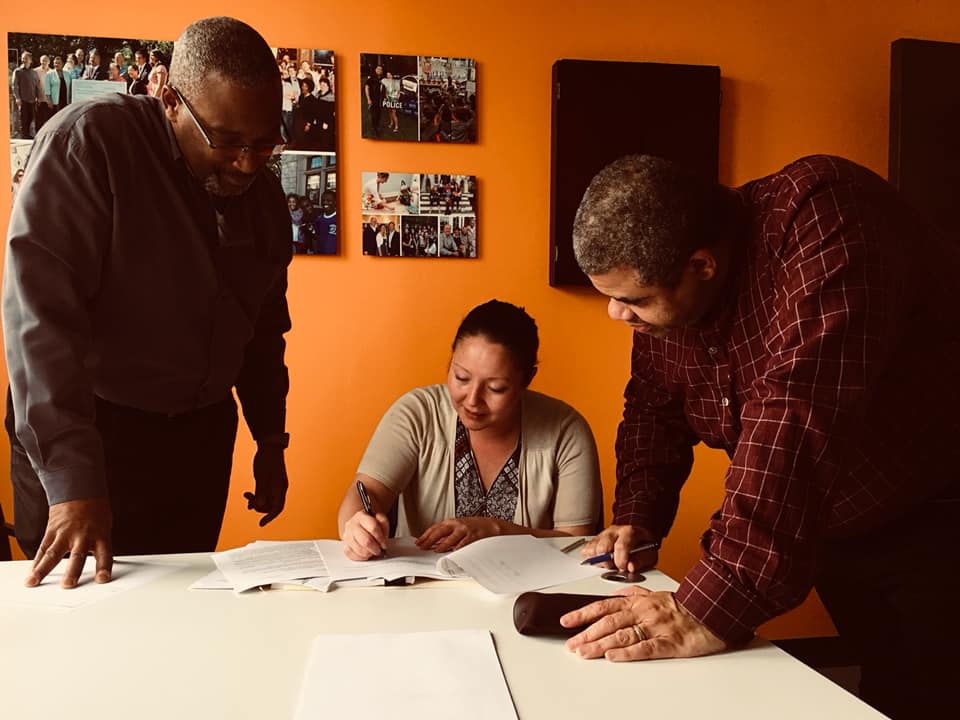 After years of planning and a legal challenge, South Orange Township is finally closing on the sale of its historic Village Hall to a restaurant group. South Orange officials signed closing documents today, with Landmark Hospitality scheduled to sign tomorrow.
The building will now be developed as a restaurant, beer garden and catering hall by Landmark. Although the South Orange Planning Board and governing body approved the site plan and financial deal, respectively, years ago, permissions from historic agencies as well as a legal challenge from a nearby property owner held up the sale until today.
South Orange Township should see an immediate influx of $1.2M in its coffers for the sale. It is also now relieved of the cost of further remediating and renovating the building (the township did spend several hundred thousand on renovations before the sale, however, that amounted was "reflect in the purchase price," said Village President Sheena Collum, who negotiated the price up from an initial offer of $700,000). The town has also taken on the cost of rent to house its municipal offices at 76 South Orange Avenue since leaving Village Hall but has plans to relocate those offices ultimately to space within the renovated library.
Landmark will now immediately begin paying land taxes on the property and will begin paying a 20-year PILOT (payment in lieu of taxes) when they received their certificate of occupancy for the new commercial use.
The original timetable for the development of the site from "shovels in the ground" to grand opening was about 18 months. Village Green has reached out to Village President Sheena Collum for an updated timetable and will report that information when Collum has updated information.
Although many locals have expressed excitement about the prospect of a restaurant and beer garden activating the space, some have decried the sale of the iconic historic landmark building that is a symbol of the town. However, Landmark is required to preserve the exterior in its renovations and has a reputation for adaptively re-using historic buildings for its restaurants.
Collum announced the sale in a Facebook post:
I have been waiting for this day to come for so long that it's borderline emotional for me. I'm signing all the closing documents for the sale of our Village Hall, accompanied by our municipal attorney Clyde Otis and our Village Clerk/Notary Kevin Harris. An $8M+ immediate direct savings to our taxpayers; a new downtown ratable; an adaptive reuse with a multi-million dollar historic renovation for a restaurant and beer garden being undertaken by one of the most successful, award-winning restaurant groups in the entire region and "activating" a very important intersection in the heart of our downtown, which as major anchor, will undoubtedly attract more investment moving east on S.O. Ave.
Thank you neighbors for your patience and excitement for a new chapter. As you are hopefully aware, we're concentrating now on delivering a 21st century Library and Municipal Complex and major upgrades to our Baird Community Center.
Read some of Village Green's previous reporting on Village Hall here:
Collum: Village Hall Lawsuit Settled, 'Restaurant and Beer Garden Here We Come', May 8, 2018
Collum Says Village Hall Restaurant, Beer Garden Could Open By Summer/Fall 2019, March 22, 2018
Rosner: Wainco Appeal Could Hold Up South Orange Village Hall Development for 6 Months, November 15, 2017
Almost 2 Years After the Financial Deal, Village Hall Site Plan Approved by South Orange Planning Board, August 8, 2017
What's Up With the Redevelopment of South Orange Village Hall?, October 28, 2016
Collum: Village Hall Site Plan to Go Before Planning Board in July, June 14, 2016
South Orange Approves Transfer of Cryan's Liquor License to Village Hall Developer, March 28, 2016
'Village Hall Restaurant' & 'Pump House' Coming to South Orange Village Hall in 2017, December 21, 2015
South Orange Moves Forward on Sale of Village Hall, Approves Financial Deal, November 23, 2015
More reporting on Village Hall redevelopment here.