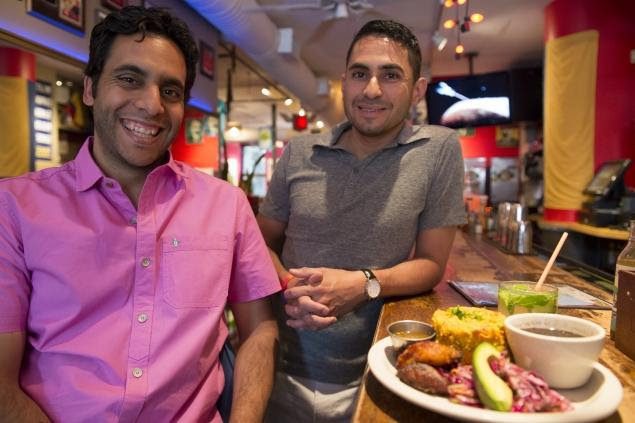 From the South Orange Village Center Alliance Village Vibe newsletter:
Stony's Restaurant, which is an institution on Sloan Street, has found new owners! It's true — Laura and Stony Johnson, who have been operating the restaurant since it opened almost a decade ago, are moving to Norfolk, Virginia at the end of the month to live on the beach, and they have sold the restaurant to a local couple who are going to do amazing things with this classic establishment.
George Constantinou (pictured left) and Farid Ali (pictured right) are raising their kids right here in South Orange, although they own and operate two restaurants in Park Slope. If you're a Brooklyn ex-pat (like I am) you may be familiar with Bogota Latin Bistro, which is an award-winning Colombian and Latin restaurant on 5th Avenue in the Slope, or Miti Miti, their modern Mexican restaurant, which they opened a few years ago also on 5th Avenue in Brooklyn. I've been talking with them for some time about bringing their Brooklyn magic here to South Orange, and with the Johnsons moving to Virginia, the perfect opportunity arose, and there you have it!
And here's the best part of all: George and Farid are going to keep what people love about Stony's such as burgers, fries, chicken sandwiches, salads and then they will eventually add new items such as empanadas and tacos, or what they call "Latin street food." Later this year they will be changing the name to Miti Miti like their Brooklyn counterpart, but, for the time being, it's still called Stony's. They'll be closed for a few days while they make some minor renovations and get all their permitting in order, but they should be back open very soon to continue serving South Orange.
Laura Johnson, on behalf of herself and Stony, wanted to thank all of you, Stony's customers, for your loyalty over the years. Laura said, "Stony and I have loved living here all these years. We have raised our family here and now they are all grown and happily on their own! We appreciate all of your support at Stony's the last nine years. We will miss South Orange and our dear friends greatly, but we are on to the next chapter!" Laura went on to tell me that they're thrilled that George and Farid are taking over, keeping the staff together, and will take Stony's, and soon Miti Miti, to even greater heights. Let's all wish Laura and Stony the best of luck in their next chapter and welcome George and Farid to Sloan Street.