The South Orange and Maplewood community celebrated the grand reopening of the Lynn V. Profeta Field at the Underhill Sports Complex in Maplewood on Saturday. The event was organized by CHS Cougar Boosters and Alumni in conjunction with the Columbia High School Activities & Athletics Dept.
CHS Acapella Noteworthy group performed the National Anthem to kick off the festivities. Students from Marching Band and captains from Field Hockey, Soccer, Lacrosse were part of the dedication.
To make it even sweeter, the Columbia High School Boys Varsity Lacrosse team won their home game.
The field was dedicated with remarks by former Maplewood Mayor and benefactor Fred Profeta and CHS Principal Frank Sanchez. Other dignitaries in attendance included CHS Director of Activities and Athletics Rich Porfido, South Orange Village President Sheena Collum, Maplewood Mayor Dean Dafis, South Orange-Maplewood Board of Education President Kaitlin Wittleder, BOE 1st Vice President Elissa Malespina, BOE 2nd Vice President Nubia Wilson, and BOE members Regina Eckert and Arun Vadlamani.
The ribbon was cut by Jamie Fardin who was recognized as the CHS awardee for the NJSIAA National Women in Sports Day from her varsity lacrosse and volleyball accomplishments.
The improvements were funded through the school district's generational $160M Long Range Facilities Plan — a multi-year endeavor that is bringing additions and improvements to schools and facilities throughout the district.
Read excerpts from Profeta's remarks below.
Read more about the new field here:
SOMA to Celebrate Grand Reopening of Profeta Field at Underhill Saturday April 22
Photos credit Tim Parlin.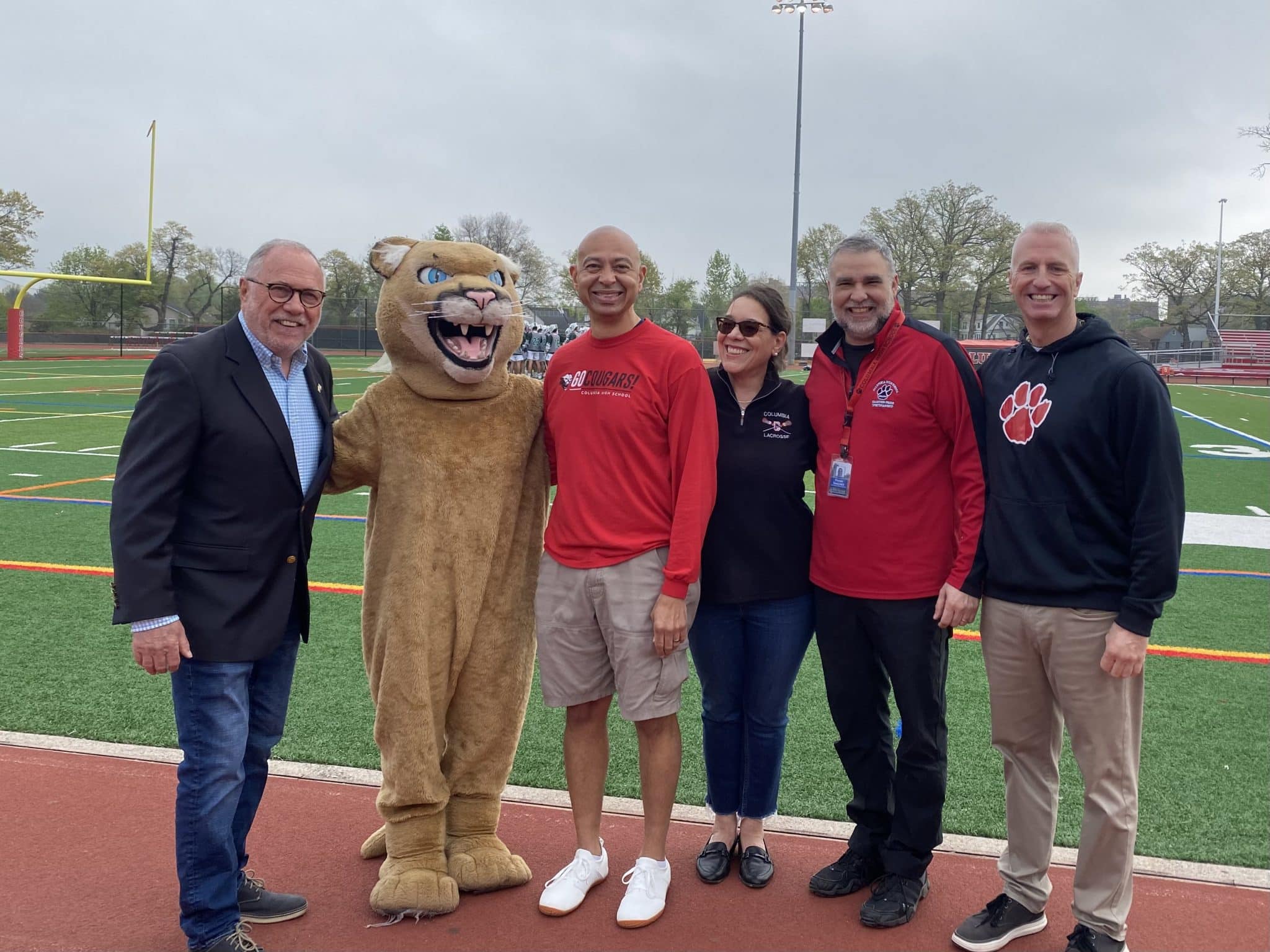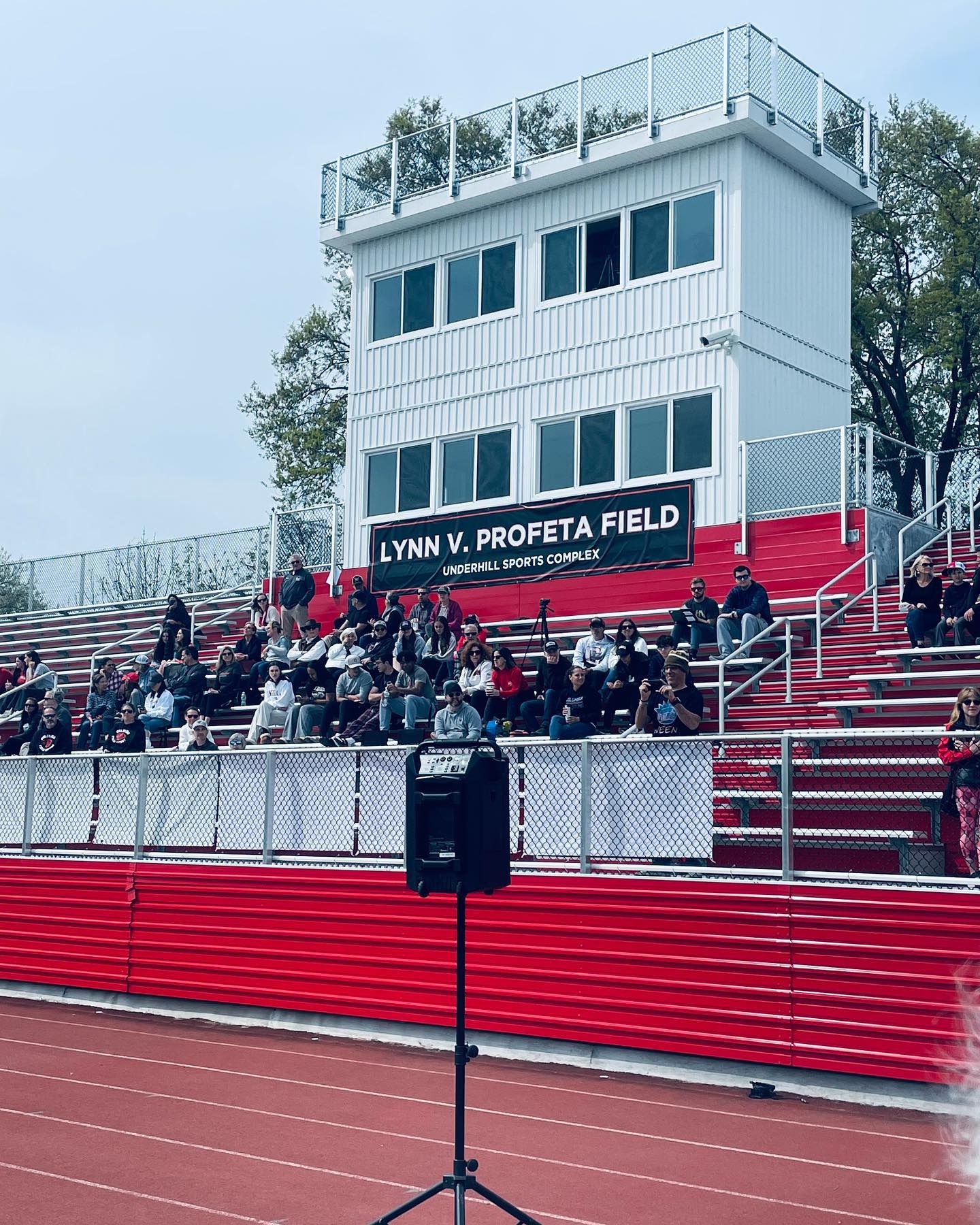 This is the re-dedication of the Lynn V. Profeta Field at the Underhill Sports Complex. The Field is the area we are standing on now. The Complex is the athletic area, including the baseball and softball fields. As many of you know, Lynn Profeta was my mother. She was a much-beloved teacher in the District for 30 years, retiring in 1981. In a bit I will tell you how this field came to be named after her.

______________________________

The first dedication of this field occurred on October 25, 2008. It was Homecoming Weekend, and it was a glorious day. The football team won its game, which was not common at that time. Some said it was the turf. Who knows? But the next year the team had one of its best seasons in recent years.

But the story actually began in 2006. At that time, the field behind me was a sorry dirt patch, with little grass but lots of lumps and holes and mud. It was possible to play football on it (although not very well), but soccer and field hockey were a real challenge. It was impossible to get a true bounce off the surface. The field was an embarrassment. Visiting teams were appalled at the conditions. And it all reflected poorly on South Orange and Maplewood.

The community was very upset. The Columbia High School Alumni Association decided to take up the cause. I went before the Board of Education in 2006, made a personal financial commitment toward installation of a turf surface, and represented that the Alumni Association would undertake a fundraising effort if the BOE would commit to a renovation project. The BOE said "sure", sounds good to us, and we will commit to $400,000. We hope you can raise the rest. Well, we knew that the total cost of the field, the stands, and the rest was north of $1,5M and we wondered if we had bitten off more than we could chew.

______________________________________

So here is where my mother's reputation in the District came in. She was the daughter of immigrants who had no formal education. The family was very poor, and my mother recognized that education was her path to a brighter future. She got that education, as did my father, who was an immigrant himself. This enabled them to move to Maplewood. My mother began teaching at Maplewood Junior High School (now MMS) in l951. She taught languages, and quickly became a guidance counselor as well.

The thing about my mother was that her students loved her. During the campaign to raise money for this field in 2007 and 2008 I received many notes and letters from former students praising her. One comment that I received over and over again, in one form or another, was that "She was simply the best teacher I ever had."

Mom had a specialty. She used to say that she was good at spotting "diamonds in the rough." And she was. She could identify students with capacity to succeed but who were not performing up to that capacity. She would take these students aside and would challenge them. She told them that they could do much better than they had so far, and that she would prove it to them by putting them in more advanced classes. She told them that she had a dirt poor background and that education had been the key to success for her.

What my mother did for these students worked time and time again. I well remember one example involving a boy named Frank. Frank was a year younger than me. When he got to Junior High he was good at one thing – fighting. You did not want to get in a fight with Frank. If you did you were going to hurt for a long time. My mother knew that Frank was not a dumb kid. She challenged him. He took her up on it. She put him in tougher classes and this motivated him. His marks improved and he had an excellent record at CHS, where he was also a star on the football team.

Frank went on to college and medical school. He eventually became a professor at Harvard Medical School where he had an illustrious career. If Frank were here today, he would probably tell you that the path of his life might have been significantly different if it had not been for my mother.

So I knew that my mother deserved to be recognized by this District for her excellence in teaching. But I also knew that if we convinced the BOE to name this field after her that this could inspire donations from the alumni. After all, graduates living in California or Illinois might not see a reason to contribute to a football field in Maplewood, but they might be inspired to honor their former teacher.

_________________________________________

For whatever reason, the drive to raise money from alumni and community residents was a success. The Alumni Association received over $850,000 from this effort. But we still needed $500,000 to reach the required total of $1,750,000, There was one more piece to the puzzle, and that was Seton Hall.

Seton Hall was interested in receiving permission from the District to allow its students to practice at our new facilities. But they were only offering $100,000 to pay for this privilege. Beth Daugherty was President of the BOE at the time, and I was the Mayor of Maplewood. Beth and I approached the President of Seton Hall and made a pitch for a more significant donation. We made the point that this was a good opportunity for Seton Hall to demonstrate that it could contribute to the community of which it was a part. Seton Hall ultimately donated $500,000.

That did it. We had enough to install a turf field and track, rebuild the seats and press box, put up new scoreboards, and add lighting for night events. When we dedicated the field in 2008 my mother got to be present. She was 99 at the time and in failing health, but she saw it. She died the next year at 100.

______________________________________

Do you know what this effort is called? You probably know. It's called a public/private partnership. There is no technique better for getting important things done in a community. And that is because when private citizens buy into a project that succeeds, they develop pride, commitment, and the energy to improve it and replicate it. And that is what we have done here today. What's next – Ritzer field?

The CHS motto is Excelsior. That is Latin, and it means Every Upward. Let's commit to that motto today. Let's keep CHS going Ever Upward for Evermore. Thank you everybody. And my mother thanks you for listening to her son.