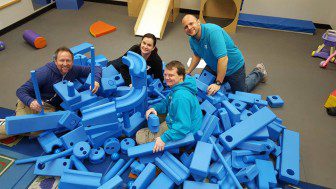 Are you suffering from weekend cabin fever with the little ones?
South Mountain YMCA and the Maplewood Department of Recreation and Cultural Affairs hear your cries of desperation.
Starting February 6, the Y is at The Woodland at 60 Woodland Road in Maplewood on Saturday mornings from 10 a.m. to noon with The Family Room:  Exploration at Your Doorstep. Local families can start their day with a morning of science, dance, building blocks, story time, art, play and GaGa pit fun (Gaga pit, by the way, is a form of mellow dodge ball and bears no relation to the meat-dress-wearing superstar).
Activities for tiny tots are upstairs in the "parlor." The bigger kids are downstairs in the main room. Each activity will feature a staffer to monitor and facilitate play, said Eric Stoddard of the Y.
It's a great way for families and kids to connect. Plus, there's coffee — for the grownups only.
The Family Room is for families with children ages six months to 11 years. 10 a.m. to 12 p.m., Saturdays, February 6-April 9 (excluding March 19). The cost is $100 for 10 Saturdays; or $20 for drop-ins.
Call the Y to register at 973.762. 4145 or register online with class code 76447. Got questions? Contact gsprague@metroymcas.org.
The Family Room is being presented in conjunction with the Maplewood Department of Recreation and Cultural Affairs.
Below, see picture of Y staffers Eric Stoddard and Gail Sprague setting up The Family Room. Click on any photo to enlarge.