"Our main goal is not to cut staff this year," said Interim Superintendent of School Dr. Thomas Ficarra on Monday night, March 26, as the South Orange-Maplewood Board of Education voted 9-0 to approve the 2018-19 school budget.
The $137,352,722 budget will now be submitted to the Essex County Superintendent of Schools for review.
The budget will necessitate a 2.3% tax levy increase. The district is able to use banked cap to go above the 2% tax cap on school budgets.
District administrators say they are able to close a $4.2 million budget gap through a spending freeze and other measures. The spending freeze originally was targeted at $3.3 million in savings. That amount was lowered to $2.8 million when the district received about a half a million more dollars in state aid for next year than it did for 2017-18.
That tax levy increase will break down to an average household impact of $271 in Maplewood and $116 in South Orange.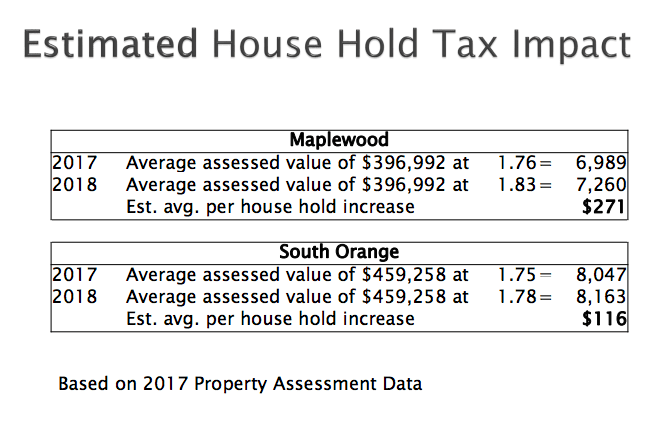 At the March 19 meeting, Board member Annemarie Maini expressed surprise that the impact was greater in Maplewood as the reverse has been the norm in recent years. Director of Business Administration Paul Roth looked into the numbers and reported back this week that, as a result of the recent joint two-town revaluation, Maplewood had made a net valuation gain that was substantially larger than South Orange's increase (Roth said that the net valuation for Maplewood was approximately $800M vs. $600M for South Orange), thereby flipping the share.
Later, when Board of Ed member Johanna Wright pointed out that Maplewood sends roughly 2,000 more students to the district and that the formula was still not equitable, Roth noted that the levy allocations are based, by law, on real property values, not on a per student basis.
At both the March 19 and 26 meetings, Board member Tony Mazzocchi expressed concern about using a spending freeze to close $2.8 million of the spending gap. He wanted to know if there was a "Plan B" if the legislature did not approve the state aid appropriation. Roth said that the backup plan was that there would then have to be mid-year cuts — but Roth stressed that approval of that state aid by the legislature was expected. Roth said that the district did have internal benchmarks for meeting the spending freeze savings and was on track to do so.
"I've never seen it happen where they didn't come through," said Ficarra, regarding the legislature approving state aid.
Ficarra noted that part of the spending freeze would be deferring maintenance projects that could be addressed in a new facilities plan to be unveiled shortly.
In presenting the budget, Ficarra and Roth noted that the district would be helping to control costs  partly through bringing soaring out-of-district placements in house through hiring, training, programming and more. Read Village Green's report on out-of-district placements here.
Watch the discussion of the budget here. 
See Roth and Ficarra's slide presentation here: