Our unseasonable warm autumn is finally turning chilly, and the ladies at The Rack on Springfield Avenue are ready to keep you warm with some piping hot coffees and cocoas.
"Our beverages are fresh and made to perfection," co-owner Osemerr Ayinde told Village Green. "The Rack's signature Hot Koko is all made from scratch with real Hershey's  cocoa. Our lattes and other coffee beverages such as, Macchiato, Cappuccino, and our house coffee, are made from a high quality Cuban espresso."
No fall selection would be complete without a pumpkin drink and The Rack does not disappoint with its Pumpkin Chai Latte.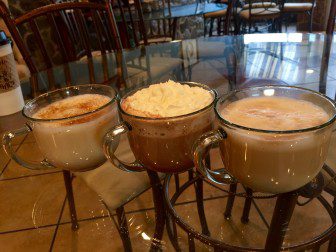 "We don't use any pumpkin flavoring," said Ayinde. "We season our pumpkin purée to perfection with just the right amount of spice, combining it with steamed milk and Stash Chai Spice Tea."
If pumpkin's not your think, no worries. The Rack also offers different flavors for its Hot Koko and Coffee beverages, such as: vanilla, caramel, salted caramel, hazelnut, raspberry, mint and mocha.
Coffee drink prices at The Rack range from $2-$2.50; specialty drinks range from $2-$4.50, from $2 for an espresso shot to $4.50 for a large Red Eye. Most specialty beverages such as the lattes, cappuccino and Hot Koko range from $2.50-$3.50.
Osemerr ("Oca") opened the cafe with her sister Omosede ("Mo") in April 2014 in the former Churrasco BBQ space and started offering up scrumptious items as grits with bacon or sausage, fresh baked biscuits, Belgian-style waffles topped with sweet or savory ingredients, sandwiches, salads, wings, shakes and more. If you haven't checked them out yet, maybe it's time.
Visit The Rack's website for the full menu and more information.
The Rack Cafe,  1844 Springfield Avenue, Maplewood. (973) 327-2353. Facebook.com/TheRackCafe.  
Hours:
Monday – Closed
Tuesday- Thursday 8am-6pm
Friday- 8am-7pm
Saturday – 9am-7pm
Sunday- 9am-3pm