Updated: Although the Maplewood Township Committee originally planned to introduce an ordinance for approval of the Redevelopment Plan for the former Toomey's site at 104 Baker Street at the December 4, 2018 TC meeting (with a hearing and final vote on December 18), according to Maplewood Mayor Vic DeLuca, "We decided to work more on the proposed plan before introducing it. Some of the items that came up in the [November 19] community meeting need to be reviewed and/or clarified before the TC considers the plan. There will be no votes on the plan in December."
Additionally, DeLuca provided the following information when asked how the redevelopment plan differed from existing zoning for the area:
1. No financial institutions in redevelopment area which are permitted in retail business zone.
2. Parking – Retail business zone requires two spaces for each residential unit. Redevelopment area calls for 1 to 1.5 parking spaces per housing unit. 
3. Height – Retail business zone allows for up to 50 feet with one foot set back for each foot over 30 feet. Redevelopment area has a 47 feet height limit and a step back requirement of one foot back for each foot above 35 feet. 
The Township of Maplewood is looking to encourage redevelopment of the old Toomey's site on Baker Street in Maplewood Village in a manner more consistent with other properties in the village.
The old service station — a 0.23 acre lot — is an odd man out in a downtown filled with ground floor commercial spaces and office and residential uses on upper floors.
The draft redevelopment plan (see below) was prepared by planning consultant Paul Grygiel. The stated purpose of the Redevelopment Plan is "to provide a framework for the potential redevelopment of a property occupied by a vacant building and developed in a manner inconsistent with its walkable downtown setting in accordance with smart growth principles and current design techniques."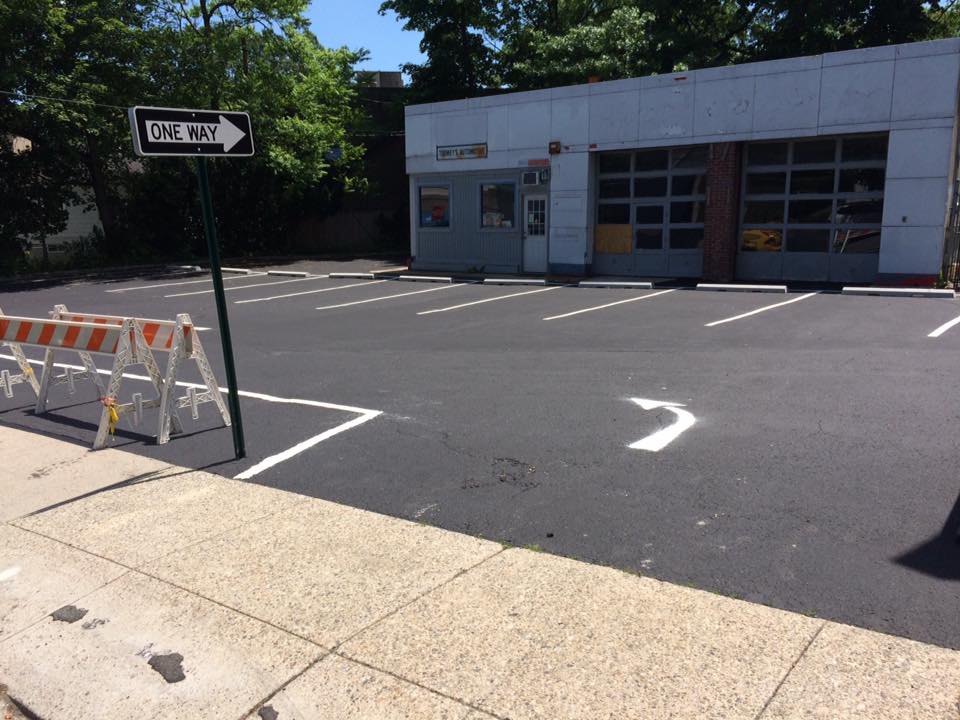 The draft plan aims to attract development that is consistent with other buildings in the downtown, that capitalizes on the transit-friendly location, that is "green," that is attractive, that improves the pedestrian environment and that provides parking not just for its own uses but also accommodates parking for other uses in the vicinity (the Township has been leasing the property since June to provide 10 extra visitor parking spaces):
The plan also provides for maximum building height of 35′ along Baker Street but up to 47′ in stepped-back components away from the street. A maximum of three stories would be allowed.
Toomey's closed last year after 49 years of business in Maplewood Village. Joe Toomey, then age 74, moved his business in with Bernie's Motor Cars at 73 Millburn Avenue in Millburn. At the time, Toomey told Village Green that he was looking forward to cutting his hours back from 70 to 40 per week. (Read more about the closing and history of Toomey's here.)
In June, DeLuca told Village Green that his "best guess" was that the parking lot will be available for parking for "a year or two" as Iron Ore works on a  proposal for a mixed use development for the site.
The Township held a community meeting on the redevelopment plan on November 19. Read the News-Record's report on that meeting here.