The hilarious (yes, hilarious) "Night of The Living Dead Live" opens Friday, Oct. 10 at The Baird Theatre, South Orange.
A takeoff on the spoof of the famed 1968 movie by George Romero, "Night of the Living Dead" is being presented by interACT Theatre Productions, the theater in residence at the Baird.
Nicholas J. Clarey directs with music direction by Holland Jancaitis.
"This is a great throwback to one of the original classic horror movies," says Clarey. "It's a nice shot of Halloween – a little bit of scary and a lot of fun, with a terrific cast."
On October 8, readers of Rolling Stone Magazine voted the 1968 movie, "Night of the Living Dead" one of the top 10 horror movies of all time.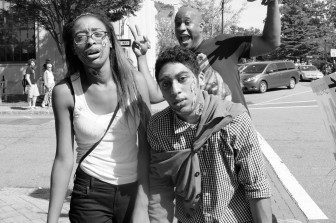 How does a half-century-old movie inspire such loyalty among movie watchers? "Night of the Living Dead" invented the idea of zombies as we know them today, an amazing contribution to American public culture. But it did so much more. It was the first movie to cast a black person as the lead in a horror movie, and the first to cast a black person not already a star in a non-racially specific role (sorry, Sidney Poitier!). Oh, and did we mention that everybody dies at the end?
The remarkable blend of innovative scares and subtle civil rights themes made director George Romero's low-budget drive-in flick an instant American classic.
InterACT's production is based on a new spoof of "Night of the Living Dead" written with the cooperation of George Romero himself. "The audience will get some of what they're expecting, but also a lot of really funny surprises," says Clarey.
Showtimes are 7:30 p.m. Fridays and Saturdays, and 4 p.m. Sundays (Oct. 10-12; Oct. 16-18; Oct. 24-26) at the Baird Theatre, 5 Mead St., South Orange. Learn more @ https://www.interactproductions.org/
Tickets Online: $16 Adults / $13 Students (w/ID) and Seniors (60 and up). Click HERE. https://interactproductions.tix.com/Schedule.aspx?OrgNum=2779
Box Office: $20 – Adult /  $16 Students (w/ID) and Seniors (60 and up).
Cast: Ann Alfano, Levil Shawn DaCosta, Christopher Clark, Erik Gaden, Noelle Herivaux, Sophia Herivaux, Simone Hilliard, Christopher Rios, Tom Hilliard, Meara Jones, Jessica Kaiser, Devon Moyd, Emeka Nwafor, Mark J. Parker, Sabrina Santoro, Jacob Stafford, Kayla Stewart, David Wren-Hardin.