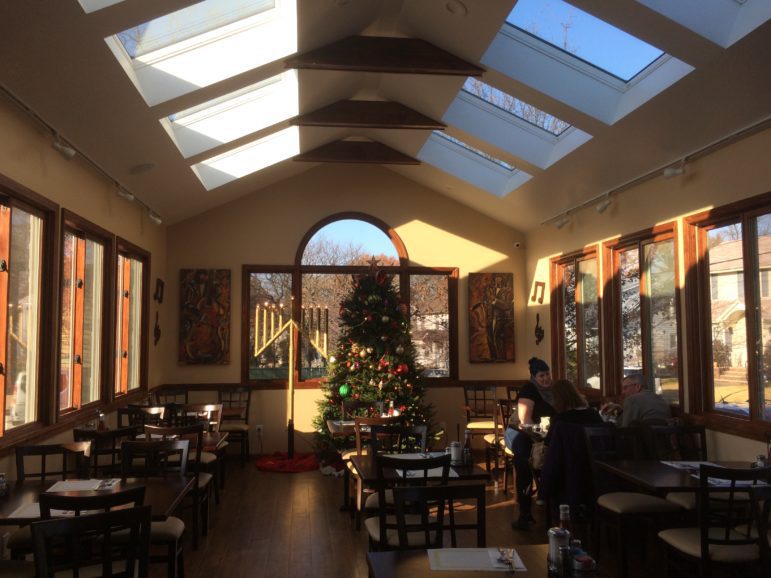 The Park Wood Diner, already well known for excellent diner food and giving back to community, just got bigger after 12 years in business at 1958 Springfield Avenue, Maplewood, NJ.
Park Wood owners Pete and Fifi Kikianis recently turned an enclosed deck into a permanent structure — making it available for year-round seating and dining.
The addition has been named the Jim Buchanan Room, after community activist and musician Jim Buchanan, who often plays with his trio at the diner. Buchanan is also an leader of the Hilton Neighborhood Association.
Last spring, Fifi Kikianis told Village Green, "We'd like [the addition] to have an outdoorsy feeling. The windows will open, and it should feel a little like a greenhouse."
Mission accomplished: The room is bright and open and smells of fresh wood.
The doors that separated the deck from the main restaurant have remained, in order to make the new area available for private gatherings.
Maplewood Mayor Victor DeLuca told Village Green last spring, "I think it is great that Pete and Fifi are investing in Springfield Avenue by converting the diner's deck to an enclosed room. The Park Wood will be able to accommodate more patrons, particularly those who are in larger parties. This will be a real plus to a terrific place to eat in Maplewood."
The addition increases seating at the Park Wood from 90 to 130 seats.
To deal with increased customer capacity, the Park Wood is renting 12 spaces in the parking lot directly across the street at the intersection of Ohio Street and Springfield Avenue.
The Park Wood was a finalist in NJ.com's 2015 Best Diner in NJ contest, and in 2017 was named Best Diner in Essex County by NJ.com.
The Park Wood is open daily from 6 a.m. to 10:30 p.m.
1958 Springfield Ave, Maplewood, (973) 313-3990