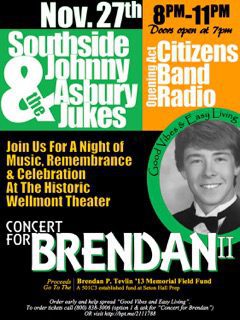 On Friday The Wellmont Theater in Montclair will host the 2nd annual benefit concert in memory of Brendan Tevlin, the 19 year old from Livingston, NJ who was murdered in June 2014. Southside Johnny & the Asbury Jukes will headline the Concert for Brendan II with Citizens Band Radio opening.
Concert For Brendan II
Friday, November 27 at 8 pm
The Wellmont Theater, 5 Seymour Street, Montclair, NJ
Tickets are $50 floor general admisison/ $30 balcony general admission and can be purchased online here.
Join the all-star hip-hop reunion of old school greats from the '80s and '90s at NJPAC on Friday night. Back and better than ever! Relive the party vibe of the Golden Age of hip-hop and freestyle at this one-of-a-kind show of block-rocking artists: KRS-One, The Lox, Ja Rule, Rakim, Mad Lion, Lords of the Underground, and Black Moon.
Masters of Ceremony
Friday, November 27 at 8 pm
NJPAC, 1 Center Street, Newark, NJ
Tickets are $54 – $104 and can be purchased online here
Take the family to see an afternoon of magical entertainment presented by The Theater Project at the Burgdorff Center in Maplewood on Saturday. Michael Healy's magic shows amaze and delight audiences of all ages across the country. With lots of audience participation, you'll never know what to expect!
Michael Healy Magic Show
Saturday, November 28 at 2 pm
Burgdorff Center, 10 Durand Road, Maplewood, NJ
Tickets are $15 adults / $10 kids under 12 and can be purchased online here
Attend the 18th annual Giants of Jazz celebration at SOPAC on Saturday. Honoree George Cables will be joined by some of the greatest names in Jazz in this star-studded night of music. Cables has performed and recorded with some of the greatest jazz musicians of our time.  He has emerged as a major voice in modern jazz. He is currently performing and recording as a soloist, with trio and larger ensembles, and as a clinician in college jazz programs. In addition to composing and arranging for his own albums, he has contributed to recordings by Dexter Gordon, Art Pepper, Freddie Hubbard, Woody Shaw, Bobby Hutcherson and many others. He is noted for his fresh interpretations of classic compositions and for his innovative style of writing.
Giants of Jazz Honoring George Cables
Saturday, November 28 at 8 pm
SOPAC, One SOPAC Way, South Orange, NJ
Tickets are $50 – $60 and can be purchased online here
Get cooking with the kids at Kings Cooking Studio in Short Hills. The 2  hour hands-on "Celebrate Chanukah with the Family" class will have you whipping up holiday favorites, such as Potato Latkes, Homemade Applesauce, Beef Barley Soup, Dried Crispies
Kings Cooking Studio: Celebrate Chanukah with the Family
Sunday, November 29 from 11 am – 1 pm
Kings Cooking Studio, 778 Morris Turnpike, Short Hills, NJ
Cost is $55 per person. Register online here
Mostly Music Chamber Music presents the second concert of its 2015-16 season on Sunday.Ani Kavafian, violin, and Carter Brey, cello, will be joined by pianist Jonathan Feldman and violinist Ida Kavafian. The program includes a Trio Sonata by J. S. Bach, a Sonata for Two Violins and Piano by the Czech composer Bohuslav Martinu, and Brahms Piano Trio in B Major. Also on the program is "A Tale for Two Violins," composed for sisters Ani and Ida Kavafian by Kristapor Najarian. The Kafavians recently performed this work during a visit to their native Armenia.
Mostly Music Chamber Music  Concert
Sunday, November 29 at 2:30 pm
Morrow Memorial Methodist Church, 600 Ridgewood Road, Maplewood
Tickets are available at the door: $30, $25 for seniors, students 10-21 free
Check out our Events Calendar to see what else is happening in the towns and enjoy the long weekend!