From Meeting Emergency Needs with Dignity: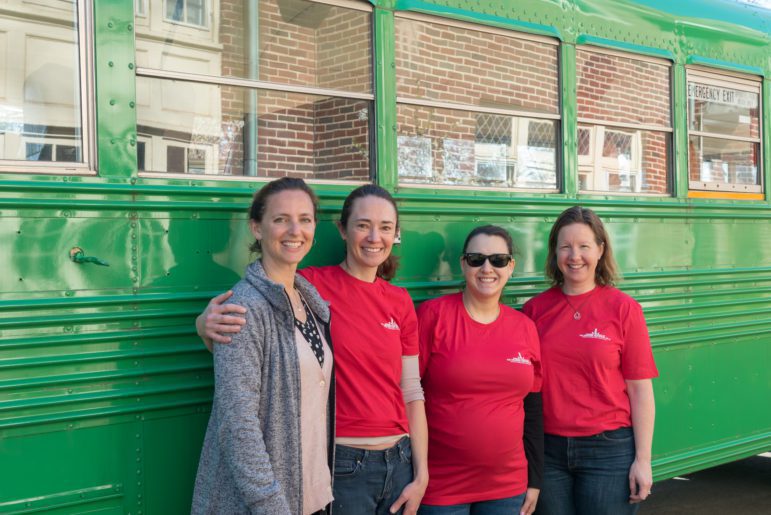 Stuff the bean!
Meeting Emergency Needs with Dignity, MEND, has a new tool to fight hunger in our area. A big green former school bus nicknamed Project Green Bean.
A major issue food pantries face is the inability to provide fresh produce to those in need. Pantries report that clients appreciate fresh and healthy food. Lack of space, proper storage, funds and volunteers, are the main reasons for the pantries not being able to provide this to their clients.
Enter the big green bus!
Group One Investments, LLC, in Newark, two years ago donated the school bus and MEND began plans to use it as a mobile food pantry to supplement its food pantries' existing capacity. Kings Food Markets gave some initial funding to get it registered, insured, painted and to make some minor repairs. MEND sought additional grant funding for equipment for the bus, and received $5,000 last year to purchase shelving, bins, and signage.
MEND then partnered with the Junior League of the Oranges and Short Hills, a volunteer organization, to have the JLOSH provisional class (its newest members) take on the completion of the bus as their provisional class project for 2017-18. JLOSH researched and planned the interior design, helped to coordinate the exterior wrap of the bus with G-1 Graphics and the interior shelving installation with Brinton Brosius, LLC, and created wishlists for needed items. JLOSH also found free parking for the bus, and will help us officially "launch" the bus at a Family Fun Day event at the YMCA in East Orange on May 12th.
Going forward, MEND will partner with community organizations (schools, churches, etc.) to "stuff the bean" with needed items for its food pantry network, and to distribute the food at pantry sites. In addition, MEND is working with two farms (one in Warren and one in Pittstown) and the Community FoodBank of N.J., to source more perishable foods to supplement what we get at "stuff the Bean" events. Volunteers will be needed to pick produce MEND at the farms. To learn more, visit: www.mendnj.org/programs/  Many volunteers will be needed!