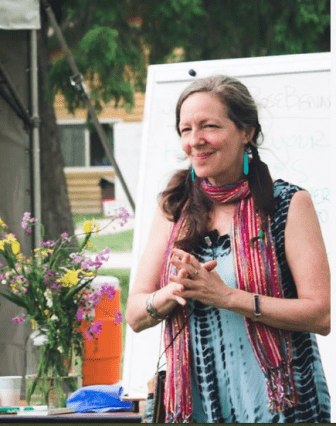 "Green Witch" Robin Rose Bennett, always spellbinding, will once again share her wisdom with Durand-Hedden visitors about the beautiful herbs and the weeds we pull from our gardens. These plants, say Robin, offer a treasure trove of gifts for us, providing an abundance of zesty tastes, nutritive value, and, perhaps most surprisingly, medicinal benefits!
Common plantain can reduce the itch of a mosquito bite or the pain of a wasp sting.
Three dandelion leaves provide 20,000 IU of Vitamin A in the form of natural beta-carotene.
Sweet blue violet leaves can dissolve breast cysts in the breasts.
Come learn about these and much more first-hand in an experiential plant walk on September 18 from 2-3:30 p.m. in Grasmere Park and the herb garden. There you'll identify, smell, touch, and taste these beneficial plants with herbalist and author of The Gift of Healing Herbs: Plant Medicines and Home Remedies for a Vibrantly Health Life, Robin Rose Bennett (WiseWomanHealingWays.com).
Also on September 18, from 1:00 – 4:00 p.m. visitors can catch the exhibit, From Farm to Suburb: The Birth of College Hill, which explores the evolution of a section of Maplewood from a dairy farm to a popular neighborhood of 300 houses. Out in the carriage house the Country Store will be selling historic-themed treasures: early American children's games, books and toys, facsimile documents, quill pens and ink, historic cook books, cookie molds, tin lanterns, reproduction decorative ceramics, vintage photos, hiking sticks and more. The hard-to-find original Doors of Maplewood poster and Smile, the history of Olympic Park, will also be available.
About Durand-Hedden House and Garden
Durand-Hedden House is dedicated to telling the history of the development of Maplewood and the surrounding area in new and engaging ways. It is located in Grasmere Park at 523 Ridgewood Road in Maplewood. The Country Store features unique books, maps, and gifts of historical interest, and is open on weekends from noon to 5:00pm. For more information or to arrange group tours call 973-763-7712. You can also visit our website at durandhedden.org and find us on Facebook and Twitter.